How to Preserve Tomatoes to Enjoy Year Round is especially helpful to know when you have a lot of tomatoes on hand.
Preserving your tomatoes is one way to enjoy the bounty from your garden year round in the recipes that you enjoy.
How to store tomatoes for months.
Since tomatoes are a seasonal fruit for many of us, preserving the tomatoes grown in out gardens is a great way to enjoy delicious flavor all year long.
Have preserved tomatoes on hand any time of the year can be a matter of convenience if anything.
Here are some more great reasons to preserve your tomatoes.
Save money. This is especially true if you are someone who enjoys organic tomatoes. Preserving your own tomatoes means that your tomatoes are free of chemicals.
To reduce food waste. Watching your homegrown tomatoes go bad while you are attempting to use them up before they do can be heart wrenching.
For future recipes. Having an abundance of tomatoes is a great excuse to try new recipes. If you have not tried new recipes in the past, you may want to try making your own tomato sauce, salsa, chutney, soup, or even ketchup.
Frequently asked about preserving.
What is preserving when it comes to food?

When it comes to food, preserving is the process that is followed to extend the shelflife of the food. That is, preserving is meant to keep the food safe for eating while preventing spoiling or decay of the food.

When you preserve for, your goal is to maintain the nutritional value, flavor, texture, and safety of the food for an extended period. This allows the food to be consumed beyond what is considered to be its natural fresh state.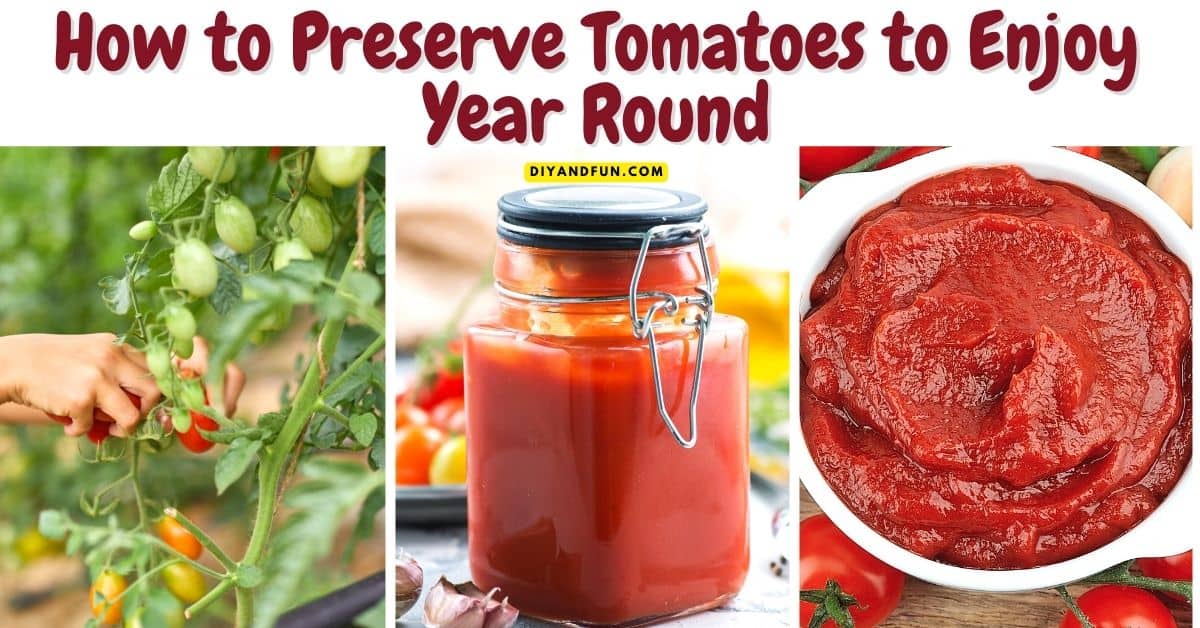 How to preserve tomatoes.
We know that preserving tomatoes from the garden is a great way to enjoy them all year round.
You can preserve tomatoes as is or you can preserve them in simple recipes.
Here are some common methods for preserving tomatoes.
Canning tomatoes is a process of preserving tomatoes for long-term storage. Canning often involves blanching the tomatoes to remove the skins before packing them into canning jars with liquid. The jars are then processed in hot water to seal them, ensuring a longer shelf life for your tomatoes.
Freezing tomatoes is an easy way to preserve your tomatoes for quick use. While some folks like to blanch their tomatoes before freezing them, blanching is not necessary.
Drying tomatoes, in my opinion, is the easiest method however, it offers limited uses for the tomatoes. Dried tomatoes are perfect for snacking on or using on top of salads or pizzas).
Expert Tip👉 What is 'blanching'? Blanching is a method used to quickly cook fruit or vegetables in hot water and then immediately placing then into ice cold water to stop the cooking. Blanching can help you preserve the flavor, texture, and color of your tomatoes by slowing down or stopping enzymes that would normally break down the tomatoes.
How to Can Tomatoes.
Canning is basically a food preservation method that involves sealing food in airtight containers such as glass jars or metal cans. The containers are then heated to destroy any microorganisms that could cause spoilage. Canning extends the shelf life of the food and maintains its quality allowing food to be stored without refrigeration.
The good news is that tomatoes can be canned as whole tomatoes, crushed tomatoes, or as tomato sauce.
You should first consult the manufacturers directions on the method that you are using to do your canning for specific instructions and tips. The acidity levels on tomatoes can vary as some tomatoes are naturally lower in acid than others. This means that you may need to add acid to tomatoes that are below a pH of 4.6 before canning them.
Expert Tip 👉Start by sterilizing the jars by first wash the canning jars, lids, and bands in hot, soapy water, or run them through a dishwasher. Then you can place the jars and lids in a canning pot or large stockpot, filled with enough water to cover them completely and bring the water to a simmer (not a boil) and let the jars and lids simmer for 10 minutes to sterilize them. Keep the lids in hot water until ready to use.
Here are the basic steps involved in canning tomatoes.
It is best to consult your manual for specifics and for further details.
Start by sterilizing the jars.
Use ripe, but not overripe, tomatoes that have been washed and with any visible blemishes removed .
Blanch the tomatoes for 30-60 seconds in boiling water. Then carefully remove the skins from the tomatoes.
Next, you can pack the tomatoes into your canning jars, leaving about an inch headspace.
Add liquid, such as water, tomato juice, or broth, to the jars.
Wipe the rims of the jars with a clean cloth and then apply the lids and rings to the jars as directed.
Follow the manufacturer's directions for process the jars
Once your jars are done processing and cooling they can be stored in a cool, dark place for up to a year.
Here are some additional resources that you may find helpful:
You can find canning kits here, canning jars here, and canning pots here.
Tips for canning Tomatoes.
Always consult the manufacturers instructions for the method that you are using to can your tomatoes. This is a general guide.
For acic you can add lemon juice or citric acid to each jar to help ensure the tomatoes the acidity for safe canning. Use one tablespoon of bottled lemon juice or ¼ teaspoon of citric acid per pint jar, or two tablespoons of bottled lemon juice or ½ teaspoon of citric acid per quart jar.
When you pack the jars, press the tomatoes down lightly to release any air bubbles.
You location altitude and the size of your jars can affect processing time. Consult a local resource if needed for adjustments.
Allow the processed jars to cool properly.
After cooling, check the seals by pressing down on the center of each lid before storing.
Be sure to follow us on Facebook, Pinterest, and Instagram.
Subscribe to our Weekly Newsletter.
↓(Keep Scrolling to Continue Reading)↓
How to freeze tomatoes.
Freezing tomatoes is an easy way to preserve tomatoes.
I like to freeze tomatoes that will go into sauce as I like to make my own sauce from scratch.
The best way to to prepare the tomatoes for freezer storage is to blanch them first. Then when you are ready to use your frozen tomatoes you can simply thaw them overnight in your refrigerator (place them on a dish or shallow bowl to catch any liquid).
Frozen tomatoes can be stored in the freezer for up to 6 months.
Steps for freezing tomatoes.
The first step to freezing tomatoes is to first select the best tomatoes to freeze and then blanch them. You can them use them in a recipe that will get frozen or freeze the tomatoes whole, diced, or pureed.
Select tomatoes that are best for freezing.
When selecting tomatoes, select tomatoes that are ripe and red without being overripe (or soft).
Also, make sure that your tomatoes are clean and free of blemishes or bugs.
Blanch the tomatoes.
The experts tell us that blanching helps to preserve the color as well as the texture of the tomatoes. Also, blanching can kill harmful bacteria.
Bring a large pot of water to a boil and prepare a large bowl with ice water.
You can quarter or leave the tomatoes as is before blanching.
Carefully boil the tomatoes in the water for 45-60 seconds.
Next, carefully transfer the tomatoes to the ice water to stop the cooking process.
Expert Tip 👉 If you have a large pot with a basket, this will make your task a bit easier to do.
Prepare the tomatoes for freezing.
There are three common ways to freeze tomatoes that are not going into a recipe first. You can freeze your tomatoes whole, diced, or pureed.
Freezing whole tomatoes.
The easiest way to freeze whole tomatoes is to first place them on a rimmed baking sheet, in one layer, that is lined with parchment paper or is lined. Freeze the tomatoes until they are hard (three to four hours) and then you can transfer them to a freezer-safe container for freezer storage.
Freezing diced tomatoes.
Start by dicing, preferably firm, tomatoes that have cooled from blanching. Place the diced tomatoes into a freezer-safe container and sprinkle a bit of lemon juice on top to prevent sticking.
Freezing pureed tomatoes.
Perhaps the easiest method of freezing tomatoes and the best method for tomatoes that may not be the prettiest. Simply puree your tomatoes using the method of choice. Then transfer the tomatoes to your freezer-safe container.
Tips for freezing tomatoes.
Always label your freezer-safe container with the date before freezing them.
Frozen tomatoes tend to get 'mushy' making them not great candidates for using for anything besides in a recipe (basically, they will not substitute well for fresh tomatoes).
Freezer-safe containers that are suitable include freezer bags, freezer storage containers, and freezer jars that are straight.
When properly frozen, frozen tomatoes can be stored for up to six months.
Drying or dehydrating tomatoes.
I like to dry tomatoes for snacking on later on.
They are also delicious on top of a salad, pasta, or a pizza
To dry tomatoes, you can use an oven, a food dehydrator, or the sun.
Start by cleaning your tomatoes and then slicing them. Make the slices evenly thick for even drying. Also, thicker slice will have more flavor but, will take longer to dry.
How to oven-dry tomatoes.
Drying tomatoes using the oven method.
Start by preheating your oven to 140-169 f and prepping a rimmed baking sheet (I use parchment paper). Then slice the tomatoes as desired and place them on to the baking sheet. Bake the tomatoes until dried but still flexible (about four to six hours depending on the thickness) .
Expert Tip 👉 Roma tomatoes are wonderful when dried in an oven. It is best to place them skin side down and the sheet. When you pull them out of the oven, you can drizzle olive oil and season the tomatoes as desired.
How to dry tomatoes using the dehydrator method.
One of my favorite appliances is my food dehydrator for this reason (drying out my abundance of late summer tomatoes). To dry out tomatoes using a dehydrator, slice your clean tomatoes in a uniform of thickness. The tomatoes will shrink while dehydrating but, it is still a good idea to leave some spacing so that the air can circulate. Follow the directions from the manufacturer of the dehydrator for drying tomatoes. A common setting is 140-160 degrees for about hours, or until they are dry but still flexible.
Expert Tip 👉 If it is okay to do so, spray a bit of nonstick on the dehydrator trays before adding the tomatoes for an easy clean up. Also, sprinkle some Italian seasoning on top of the tomatoes to drive everyone crazy...like I do.. with that amazing aroma😉.
How to dry tomatoes using the Sun method.
Sun drying tomatoes has been around about as long as there have been tomatoes. While it is a slow process (like days or a week...), can be a rewarding one too. To sun dry tomatoes, you can simply slice your tomatoes in half and place them on a wire or similar rack in a sunny location when you know that there will be a lot of dry sunny days ahead. Keep an eye on the tomatoes as they will need to be turned.
Expert Tip 👉 Store your dried tomatoes in an airtight container in a cool, dark place. Dried tomatoes can be stored for up to six months.
👇You may also be interested in these ideas!👇
How to Preserve Tomatoes to Enjoy Year Round, a simple guide featuring popular methods such as canning, freezing, and drying.
Thanks so much for visiting!
If you decide to try any of the ideas listed in this article please tag on social media @diyandfun. We like to hear your ideas and suggestions.
DIY and Fun is a website dedicated to providing you with the best DIY projects, crafts, recipes, hiking, and fun ideas that inspire. Whether you're looking for a new way to decorate your home, learn a new skill, or simply have some fun, DIY and Fun has something for everyone.
Here are some additional ways to keep coming back to DIY and Fun:
Sign up for our email newsletter. We'll send you weekly updates with new projects, inspiration, and more.
Our community forum is coming soon. Share your projects, ask questions, and get inspired by other DIYers.
We hope to see you soon!
-Mary and Mike.