How to Make a Pet Safe Garden or yard is something that not everyone takes into consideration.
The easiest way to make a garden or yard safe is to first prevent anything from happening in the first place.
Make a Pet Safe Garden and Yard.
This is a simple guide for creating a space that is safe for our furry friends.
There are simple steps to help keep our furry friends safe.
Did you read about the Top Gardening Tips the Pros all Know?
These tips are simple ways to get your garden going. Many of these tips can be helpful in your garden as well!
Celebrate you pets in your yard and garden. You can find pet-centric garden and yard ideas here.
Frequently asked questions about pet poisoning.
What is pet poisoning?
Just like with humans, pet poisoning can happen when a pet has ingested something toxic or harmful. Sometimes, poisoning symptoms can last a short time while other times they can be fatal.

What is important is that you get your pet help as soon as possible if some kind of poisoning is suspected.
How do you know if your pet has gotten poisoned?
Since pets cannot talk, you will need to observe your pet and take note on what is different.
Look for symptoms such as these common ones;
🔵Vomiting and/or diarrhea.
🟡Difference or loss in usual appetite.
🟣Salivating, thirsty, or coughing up blood.

Tips for creating a garden safe for pets.
Creating a pet-safe yard and garden does not have to be difficult or expensive to do. With some simple planning and safety measures, you can make your backyard a safer haven for your furry friends
Here is what to keep in mind when planning your yard and garden.
Safe surroundings. This includes everything in your yard or garden that does not grow.
Yard and garden care. How you care for your garden and yard can have an effect on your pets safety.
Using alternatives to pesticides, herbicides, and other potential toxins. There are options that are safer for use such as Natural Pet Safe Pesticide and Herbicide Options.
Planting pet safe plants. Plants grown for consumption, herbs, and flowers.
How to create Safe Surroundings for pets in your garden.
Think About Pet Safety First.
Safety is probably the most important priority to consider when it comes to your yard and garden. Not only does this include the perimeter of the area, it also includes hazards that you may not even be thinking about on a daily basis.
How to keep your yard or garden perimeter safe for pets.
Block off any areas that you do not want your pet to go near for whatever reason. This includes fencing off or creating barriers to keep curious pets out of danger.
Eliminate potential risks from non-living items in your yard such as items that can get chewed up, garden tools, yard waste, wood or bark that some pets like to chew on, or areas that can collect dirty water.
If there are plants that may be toxic to animals you can get rid of them or block them off. Remove harmful plants such as poison ivy .
Consider creating a safe space for your pet. A safe space can have shade for napping and a bowl that you can fill with fresh water.
Do your research first on any new plants, mulch, etc. that you are considering for your yard.
If your yard is not enclosed, consider a fence with a sturdy gate and closed up gaps on the bottom and ends. The enclosure can keep wandering pets away from dangerous areas of the neighborhood such as busy streets.
Clean up toys, decorations, garden tools, and other choking hazards from your yard regularly.
Pet-safe yard and garden care that you can do.
Maintaining your yard and garden can be done in a safeer way. Besides thinking about what plants your plant and the mulch and soil that you use, consider using pet safe herbicides and pesticides.
Natural Pet Safe Pesticide and Herbicide Options
When it comes to pesticides and herbicides that can be used when there are pets, there are actually quite a few natural options available. When selecting a product to use, ut us a good idea for read the labels however, as some contain chemical additives that may not be safe for your pet.
Use kitchen scrap items like orange rinds, garlic cloves, and lemon juice to naturally ward off pests.
For tougher-than-usual infestations, look for plant-based products made from ingredients like neem oil and chili powder. I have used hot sauce in my garden with some success.
Try using Essential Oils such as lavender and peppermint which are known to repel insects and pests.
Plants such as Basil, Catnip, Lavender, Lemon Balm, and Rosemary are non-toxic pet-safe plants that naturally repel insects .
How to use pet-safe alternatives in your garden.
While these substances may be safe when used in moderation, they can become a problem.
This includes natural herbicides and pesticides.
Here is what to keep in mind.
Apply Pet-Safe Alternatives in Sparingly and Safely.
Apply them sparingly and in areas away from where pets may roam. These solutions can still cause skin irritation if too heavily applied or even inhaled.
Keep your pets inside of your home before applying any of these products to avoid them getting in your way or inhaling them.
Be sure to wear gloves when applying even natural products to avoid contact with your skin. Also, it is a good idea to thoroughly wash your hands after use.
Lastly, be sure not to directly apply them onto your pet, as this could cause irritation and discomfort.

Plants that are pet safe plants to consider in a food garden.

Pets get hungry and pets get curious. Sometimes they like to nibble on things that are growing. While some plants may not be good for pets to consume, many or okay, usually in small amounts.

Lettuce

Lettuce can be grown indoors or outdoors. It is also one of the most popular pet-safe vegetables for gardens. Gardeners like that lettuce grows quickly and can be harvested in just four to six weeks. To take care of lettuce, simple water it regularly and make sure to pick off any yellowing leaves. Good varieties of lettuce to grow include Romaine, Iceberg, Butterhead, Leaf, Red and Green varieties.

Carrots

Surprisingly, carrots are an easy vegetable to grow. They are also fantastic for pets (my dogs love carrots!). Carrots like sun and should be planted in direct sunlight. It is a good idea that when purchase carrot seeds or seedlings, choose smaller varieties for better results. Smaller varieties are easier to grow and they do not require a lot of garden space. . Water regularly and add compost or mulch around the plants to help retain moisture.

Tomatoes

Tomatoes can be grown in the ground or in a container. They are also said to be a safe for dogs. Tomatoes, when ripe, offer beneficial vitamins and minerals as well as fiber. Green tomatoes however, should be avoided. I like that you can plant the tomatoes in a pot or container, which I like to do with smaller varieties.

Peppers

Peppers make a great addition to your pet-safe garden. The edible fruits of some pepper varieties are beneficial to canines, providing antioxidants and Vitamin A for eye health. Most types of peppers are completely safe for dogs, though it is best to avoid hot peppers as they can be spicy and upset stomachs if eaten in large doses.

Sweet Potatoes

Sweet potatoes are an excellent addition to your pet-safe garden. They are a great source of Vitamin A, which is beneficial for eye health in canines. Sweet potatoes also contain B6 and potassium, making them a healthy snack or treat for dogs. However, keep in mind that it is important to cook the sweet potatoes before serving them to dogs as they can be difficult to digest.

Herbs that are pet-safe in the garden.

Herbs are usually easy to grown and they can also add fragrance and color to a garden. While many herbs can be enjoyed by us for culinary purposes, some should be avoided or only consumed in small amounts by pets.

Lavender.

You probably already know that lavender is that beautiful purple flowering plant that happens to also be a member of the mint family. This easy to care for plant is both pet-safe and useful for certain human ailments. Experts say that the soothing smell of lavender has a calming effect. Even better, this plant is drought resistant and hardy.

Basil

This is something that I enjoy in my garden as well as in pots that I can bring indoors when it gets cold outside. Not only is basil useful in pastas and salads, it it said to be pet friendly as well.

Chives

Something else that I have both in my garden and in a pot that I bring indoors. Chives are an incredibly versatile herb that are also easy to grow. The purple flowers that chives produce are also said to be edible.

Cilantro

This is a favorite herb to add to salsa. It is also pet-friendly.
Like with other pet-safe plants, cilantro should only be consumed in moderations.

Dill

This is an easy to grow herb that provides use with a bit of fragrance. Dill leaves make a great addition to marinades, salad dressings and also fish dishes. Some say that there are health benefits associated with consuming dill.

Pet Safe Garden Flowers.

Pansies.

Pansies are a good garden flower choice as they come in many vivid hues, ranging from bright yellow and red to cooler purples and blues. These flowers are also an extra-hardy pet-safe plant. Cats especially are fond of pansies.

Cornflower.

Known for their array of pastel colors, cornflowers are pet-safe garden plants that can create a bright contrast against shrubs. The petals of this cornflowers are said to be edible, making this flower even more irresistible to cats, dogs, and other wildlife.

Petunias.

This is a popular plant that comes in various colors. Most varieties of this flower are considered to be non-toxic, making them ideal for pet-safe gardens. Plant petunias near walkways or along fence lines so your furry friends can enjoy their beauty.

Other notable pet-safe garden plants to consider.
Thyme
Sunflowers
Catnip
Roses
Thyme
Rosemary
Mint
Plants that are not safe for pets.
Tulip (bulbs)
Rhubarb.
Cannabis
Foxglove
Chrysanthemum
Hemlock
English Ivy
What to Do If Your Pet Eats a Poisonous Plant
Sometimes pets can get curious or we can miss or not be aware of toxic plants.
While this can be by accident, it is important to take action on behalf of our furry friends.
Identify the type of plant ingested.
Knowing what plant your pet has ingested is helpful in identifying the symptoms of poison. Many common household plants, such as aloe vera and poinsettia, are toxic to pets in low doses.
Contact your veterinarian as soon as possible.
It is helpful if you can provide a sample of what was eaten. Other important details include when and how much was ingested.
If you cannot get hold of your vet, consider contacting your local poison control center or ASPCA Animal Poison Control Center (APCC).
The APCC can be contacted by calling 888-426-4435, 24 hours a day and there is a fee associated with the call. Have all of the relevant information readily available when you make these calls.
Bring a sample of the plant and any vomit that was produced.
Use a zip top bag to collect the sample. Also, take a picture of the vomit.
Take notes of symptoms and behaviors that you are seeing in your pet.
This data can be helpful in the treatment of your pet.
Most importantly, try not to panic. Pets can however pick up on your behavior and as a result, panicking can make them more scared or unsafe. Try to keep calm.
Expert Tip 👉You should always do your research before planting any of the plants mentioned or not mentioned in this article to assure that they are indeed safe for your pets. Plants that are 'pet-safe' are usually 'pet-safe' when consumed in moderation as well.
👇👇Related Ideas.👇👇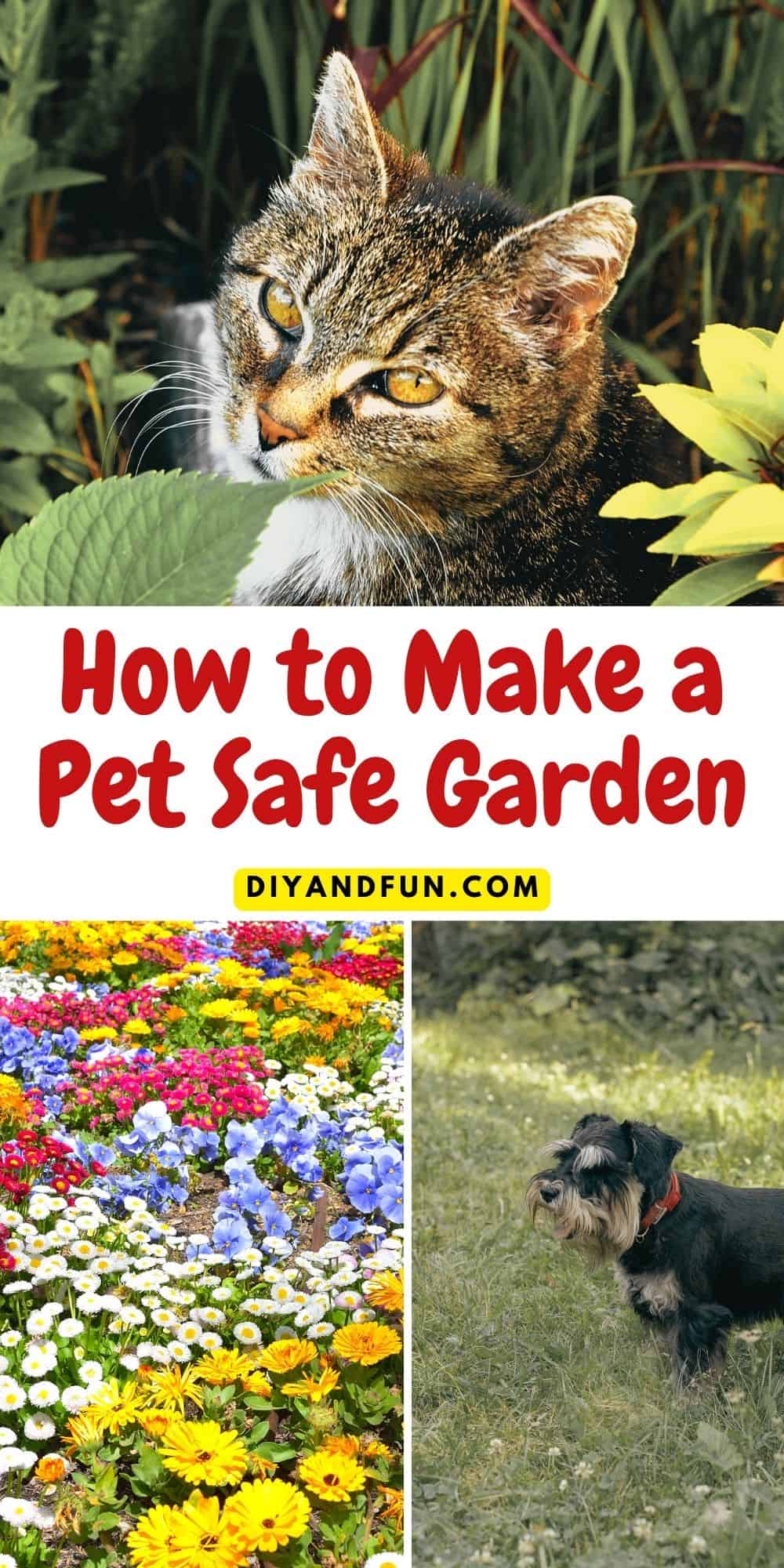 How to Make a Pet Safe Garden, a simple guide for making your backyard and garden safe for furry friends. Includes pet-safe plants.
Thanks so much for visiting!
If you decide to try any of the ideas listed in this article please tag on social media @diyandfun. We like to hear your ideas and suggestions.
DIY and Fun is a website dedicated to providing you with the best DIY projects, crafts, recipes, hiking, and fun ideas that inspire. Whether you're looking for a new way to decorate your home, learn a new skill, or simply have some fun, DIY and Fun has something for everyone.
Here are some additional ways to keep coming back to DIY and Fun:
Sign up for our email newsletter. We'll send you weekly updates with new projects, inspiration, and more.
Our community forum is coming soon. Share your projects, ask questions, and get inspired by other DIYers.
We hope to see you soon!
-Mary and Mike.