36 Amazing Dump Cake Ideas that people love to make.
I really like how easy it is to make a dump cake as well!
36 Amazing Dump Cake Ideas
This is a listing of popular dump cake recipes.
Each recipe is both simple to make and tasty to eat!
Did you see listing for56 Delicious Boxed Cake Mix Desserts ?
That recipe listing feature many popular recipe ideas. Both these recipes in the recipes in that listing are easy to make!
Using the right pan can make your baking efforts even more successful. You can find bundt pans here, springform pans here, and cake pans herehere.
You may be wondering how 'dump cakes' got their name.
I will admit that I too was a bit confused at first. But, one you actually make a dump cake, you easily learn how it got its name.
Think of a 'dump cake' as a dumping of ingredients.
That is, when you make a dump cake, you usually just dump the ingredients on top of one another in a cake pan. Then you simply bake the cake without mixing anything.
Here is what makes this dump cake easy to make.
Using a cake mix really takes a lot of steps out of making a dump cake.
This is because a premade cake mix already has the dry ingredients all ready measured out and ready to go.
Dump cakes are really the easiest way to make a great tasting cake.
A box of cake mix brings all of the dry ingredients that normally go into a cake along with sweetener and flavor. Then there is fruit 'dumped' on top or just below the cake mix.
Apple Dump Cakes.
Dump cakes are especially popular during the fall harvest season. It only makes sense that apples would be a fruit of choice!
This delectable Apple Dump Cake is made quick and easy with just eight ingredients and ten minutes prep time. I love to serve this warm out the oven with vanilla ice cream and warm caramel syrup. This is a favorite at our house and perfect for last minute get-togethers, potlucks, and family reunions.
Easiest Ever Apple Dump Cake, a simple and delicious fall inspired dessert recipe that tastes like caramel apple pie.
This Easy Apple Dump Cake is a delicious dessert that is perfect for holiday parties, tailgating, and any other occasion. It is made with just a few simple ingredients including: yellow cake mix, spices, old-fashioned oats, apple pie filling, butter and brown sugar.
A yummy Caramel Apple Pecan Dump Cake is a super easy dessert that everyone will love! With your favorite fall flavors and a handful of simple ingredients, this is sure to be a huge hit!
A great tasting apple cranberry dump cake that has a crisp vanilla cake topping with a delicious fruity layer below, flavored with cinnamon.
This Caramel Apple Dump Cake is beyond easy to make using only a few ingredients. Simply throw it together and bake it in the oven for the perfect last minute desert or birthday cake. This recipe is ideal for baking with kids or when you've just ran out of time.
Be sure to follow us on Facebook, Pinterest, and Instagram.
Subscribe to our Weekly Newsletter.
↓(Keep Scrolling to Continue Reading)↓
You may also be interested in these ideas.
A bright and sunny lemon dump cake that will become one of your favorite lemon desserts. It is filled with the tangy freshness of lemon, featuring lemon curd that is baked with cake mix and velvety cream cheese filling for a cake that is hard to resist.
Easy Pumpkin Dump Cake, a simple fall inspired dessert recipe that is perfect for gatherings, Thanksgiving, or Holidays.
This No-Bake Cherry Dump Cake is an easy, no-bake cherry trifle dessert with layers of angel food cake, sour cream, pudding, cherry pie filling and whipped topping.
This quick and easy dessert recipe only requires three ingredients! Grab your strawberry pie filling, yellow cake mix and butter then bake this Strawberry Dump Cake.
Delicious and simple recipe ideas.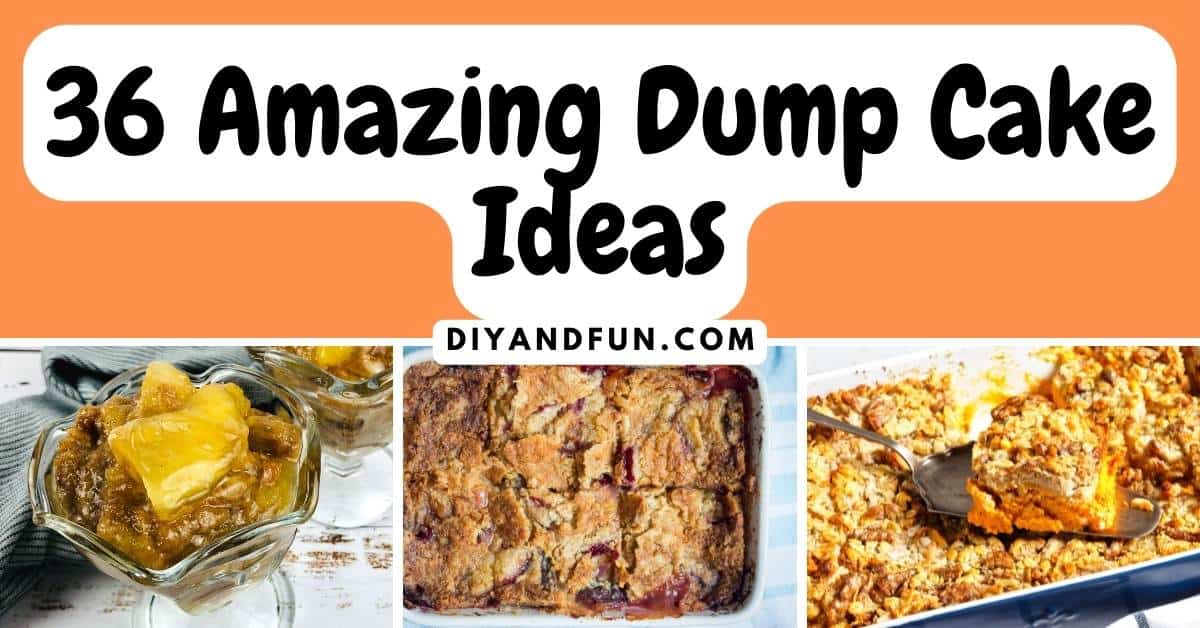 More great cake recipe ideas!
Don't miss these tasty recipes!
A delicious Cherry dump cake that is so easy to make. Full of cherry pie flavor with a crispy crust.
With just 4 ingredients and one pan, this Blueberry Dump Cake recipe is as easy as it gets. Fresh blueberries and sweet blueberry pie filling helps form a dessert bursting with juicy berry flavor.
Peach Dump Cake is one of the easiest ever dessert recipes. This simple recipe needs just a handful of ingredients including canned peaches, boxed cake mix, and butter.
36 Amazing Dump Cake Ideas, a listing of some of the best tasting and easiest cake recipes made with only a few ingredients.