DIY Honey Almond Sugar Scrub that is especially nice for skin.
This almond sugar scrub is easy to make and smells so good too!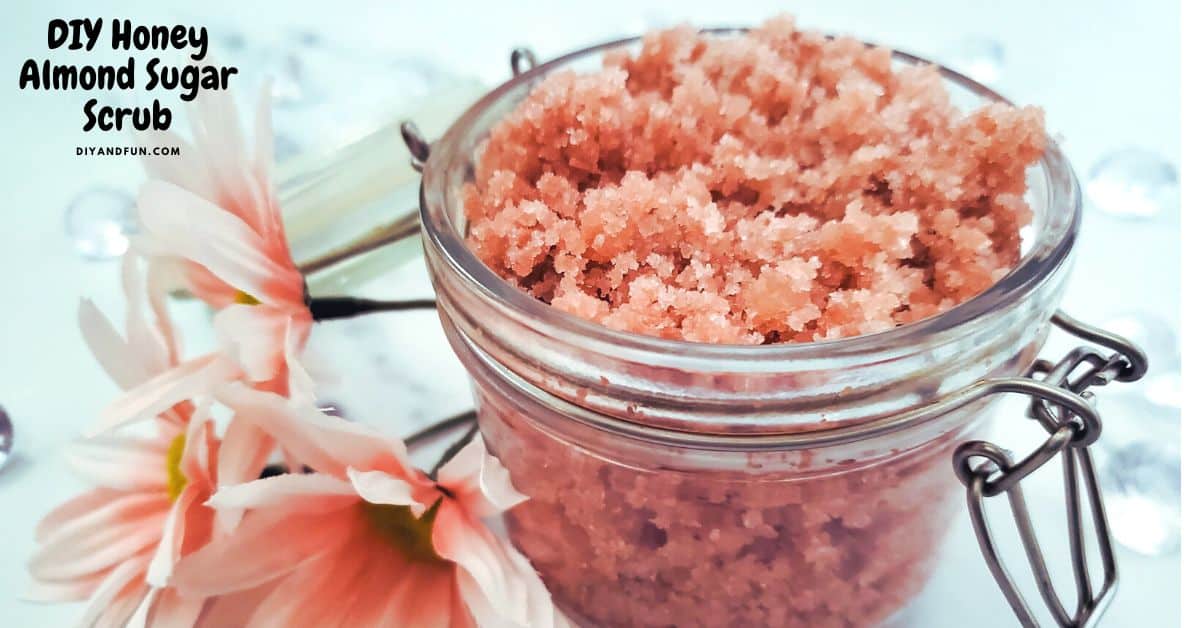 DIY Honey Almond Sugar Scrub that is easy to make.
This almond scrub is especially a nice idea when the weather is dry, such as during winter months.
There are just five ingredients that are added to this scrub recipe.
Did you try my DIY Lavender and Lemon Sugar Scrub recipe?
That lavender and lemon scrub is a similar idea that you may also be interested in trying. Both this honey almond scrub and that lavender and lemon scrub are nice ideas for pampering skin.
Make this sugar scrub as a gift idea for others. You can find small mason jars with lids here.
Frequently asked questions about sugar scrubs.
What is sugar scrub used for?
Body scrubs are often made with sugar.
Sugar offers a texture to the scrub that is especially for exfoliating, or removing dead or flaky skin from the body.

Sugar scrubs are often recommended for dry skin.
However, it is not recommended that sugar scrubs be used on open skin areas or on the face.
How often should you use a sugar scrub?
Since sugar scrubs exfoliate the skin, it is recommended that they are not used daily. This is because the skin needs time to recover between exfoliations .

Most people exfoliate one or two times a week. While once a week is suitable for good exfoliation, dry skin may need an extra use occasionally.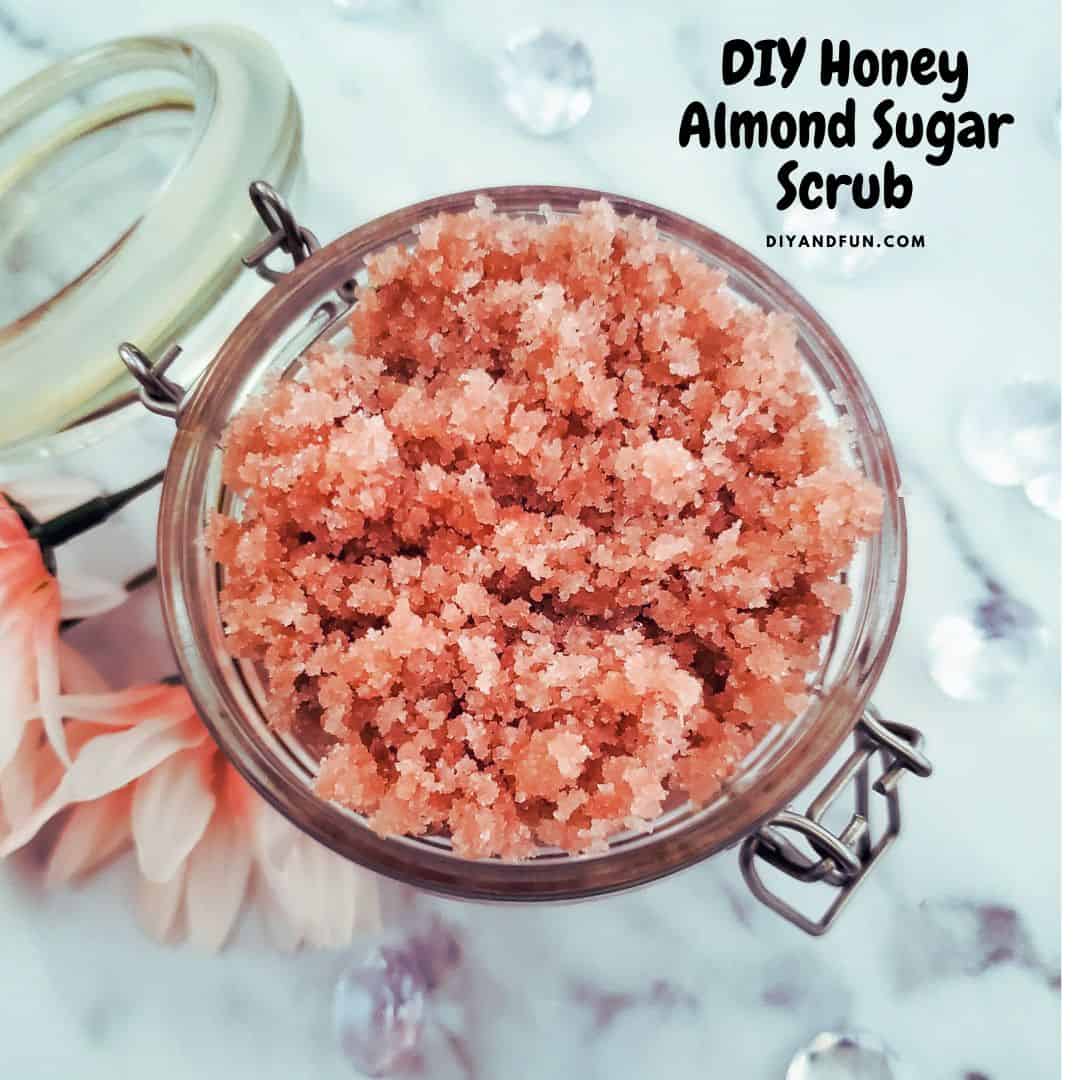 Tips for making homemade body scrubs.
This diy scrub recipe calls for sugar. Use a raw or larger sugar granules for better scrubbing abilities if you feel that you need a good scrub. Regular table sugar is effective as well.
More tips for you
Mica powder is used in this 'recipe' to help give the skin a better glow. It is essential that you avoid inhaling mica powder. Wearing a mask over your nose and mouth can be a good idea when making this.
Adding a bit (one tablespoon or so) of coconut oil to this scrub may help if you have dry skin. The coconut oil will help soften your skin.
A bit of caution for use as sugar scrubs may cause a reaction when used on the face and can get into your eyes. Also, it is best to use the scrub on skin that is intact.
Personalize homemade sugar scrub.
This homemade sugar scrub is great just the way it is.
However, you can take it up a notch.
Try one of these ideas.
Instead of almond fragrance oil, try another flavor oil such as vanilla.
Rose gold mica powder is used to add color and shine. Feel free to use another mica powder.
Add a small amount of ground almond for additional exfoliation.
👇You may also be interested in these ideas!👇
Be sure to follow us on Facebook, Pinterest, and Instagram.
Subscribe to our Weekly Newsletter.
↓(Keep Scrolling to Continue Reading)↓
How to use almond honey sugar scrub.
This homemade scrub is a really refreshing way to take care of your skin while you are bathing or showering.Simple massage the scrub into your skin using a circular motion
Even better, you can use a shower sponge or washcloth to apply the sugar scrub.
Again, use a circular motion to gently scrub your skin.
Then rinse off the scrub.
I recommend that you avoid getting this into open skin, eyes, etc however.
Ingredients needed to make this honey almond scrub.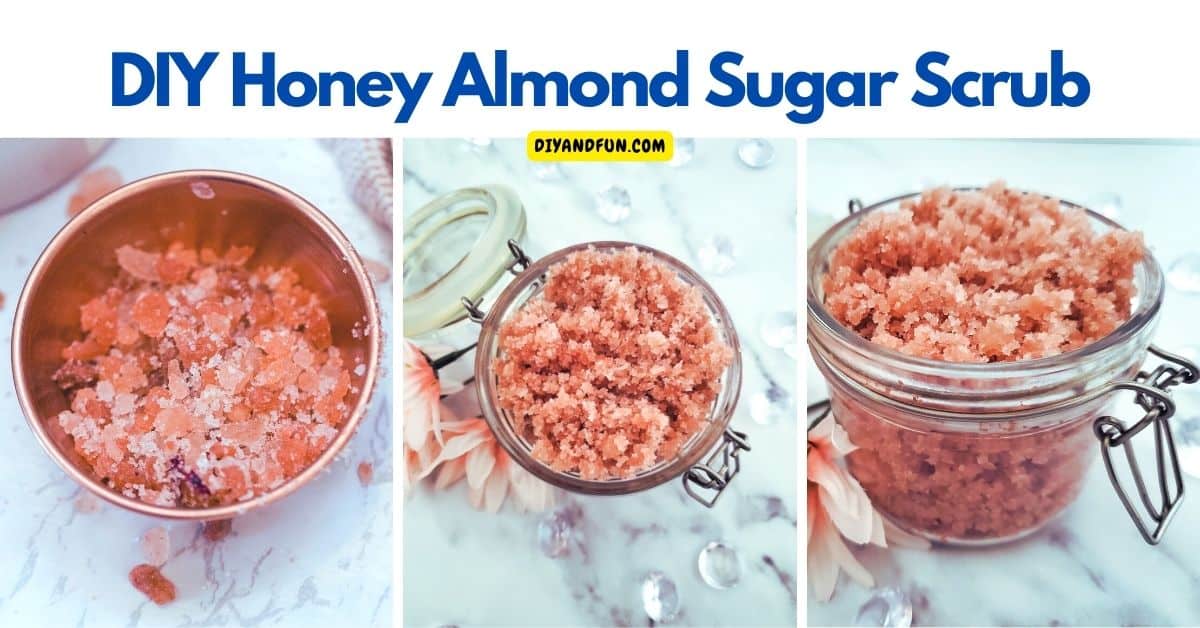 How to make DIY Honey Almond Sugar Scrub

Step One: prepare.
Gather your ingredients. Wash and dry the jars that will hold the finished project if needed.
Step Two: make the scrub.
In a large mixing bowl, combine together the sugar, sweet almond oil and the honey.
Add the mica powder to the ingredients, making adjustments as needed.
Blend in 20 drops of the almond fragrance oil, adding additional drops if needed for fragrance.
Step Three: finish making the scrub.
Transfer the scrub evenly to your jar(s). Seal or cover the jar(s) so that they are airtight.Then store the jars in a cool and dark location.
Expert Tip👉 Label and date the jars to keep track. This is especially a good idea if you will be giving the jars to others.
👇👇Related Ideas.👇👇
DIY Honey Almond Sugar Scrub, a simple beauty recipe for a body skin scrub that exfoliates and and helps to soothe the skin.
Print
DIY Honey Almond Sugar Scrub
DIY Honey Almond Sugar Scrub, a simple beauty recipe for a body skin scrub that exfoliates and and helps to soothe the skin
Instructions
In a large mixing bowl, combine together the sugar, sweet almond oil and the honey.

Add the mica powder to the ingredients, making adjustments as needed. needed for fragrance.

Blend in 20 drops of the almond fragrance oil, adding additional drops if needed for fragrance..

Transfer the scrub evenly to your jar(s). Seal or cover the jar(s) so that they are airtight.Then store the jars in a cool and dark location