You will probably be impressed with the listing of Over 40 Copycat Starbucks Recipes.
This listing includes everything from beverages to breads to treats, all inpspired by Starbucks!
Copycat Starbucks recipes are perfect for most any fan.
We all know what it is like when something is seasonal or one time only.
Learning how to make your own version can be a good thing afterall!
Did you see my listing for 36 Decadent Sheet Pan Dessert Recipes ?
Sheet pan desserts are easy to make and are also popular to serve. Many of those recipes would go nicely when served with some of these Starbucks inspired recipes.
Make that beverage recipe even more authentic looking by serving it in a Starbucks cup. You can find a variety of Starbucks cups here.
What are the most popular Starbucks drinks?
Obviously, there are many drinks that have come out of Starbucks. Some drinks have been more popular than others.

The popularity of beverages depends on the location and the time of the year. From what we can tell, it is the cold specialty drinks such as pumpkin cream cold brew or Iced White Chocolate Mocha that are most often sold.
What makes Starbucks so good?
It's a toss betwen the convenience, the recipes, and of course, the social media and similar influences that help make Starbucks so good.

This listing of recipes have all been inspired by what makes Starbucks so good. Making your own copycat versions at home is especially a nice idea when you want to save some money or if something is no longer available.
The ultimate listing of Copycat Starbucks Recipes.
This Starbucks copycat iced guava black tea lemonade is a refreshing and fruity tea drink that is perfect for summer. Guava nectar and black tea is combined with lemonade to create a tart and sweet beverage. Ice cubes are added to the drink to create a cold and refreshing treat.
A Yummy Copycat S'mores Frappuccino, a delicious homemade beverage inspired by Starbucks and marshmallows, chocolate, and graham crackers.
A tasty Chocolate Cream Cold Brew that is rich and creamy with subtle chocolate and malt flavors – and just a hint of sweetness! It's a true Starbucks copycat of their latest summer hit with options to make it vegan and dairy-free.
Copycat iced white chocolate mocha is delicious, creamy, and super easy to make at home! Brewed espresso is mixed with creamy white chocolate sauce and topped with whipped cream for this easy iced latte.
A sweet and refreshing drink is inspired by Starbucks but is much cheaper and easier to make at home.
Be sure to follow us on Facebook, Pinterest, and Instagram.
Subscribe to our Weekly Newsletter.
↓(Keep Scrolling to Continue Reading)↓
You may also be interested in these ideas.
So good! Sugar Free Copycat Lemon Loaf, a tasty sugar free copycat version of the popular Starbucks lemon loaf dessert recipe.
5-ingredient Oreo frappe is a delicious twist on a classic recipe inspired by Starbucks. Easy to customize, refreshing & so simple to make.
Made with sautéed spinach, sun dried tomatoes, fluffy eggs, and salty feta. This Starbucks copycat is way better than the original (and cheaper)!
With their frozen cherries and lemon filling and delectable oat crumble topping, these Starbucks Michigan cherry oat bars are a firm favorite!
Homemade scones are a healthy Starbucks copycat recipe that's packed with real pumpkin and perfect for breakfast or dessert right at home!
11. Sous Vide Egg Bites.
Inspired by Starbucks, this sous vide egg bites recipe with Gruyère cheese and bacon will make you think you're at the popular coffee shop.
Tasty Banana Bread that alsogoes great with a hot cup of coffee or tea!
Yummy pineapple matcha Starbucks copycat recipe tastes really similar to the real thing. It's an energizing green tea drink that is naturally sweetened with 100% pineapple juice with a kick of ginger and topped with creamy coconut milk.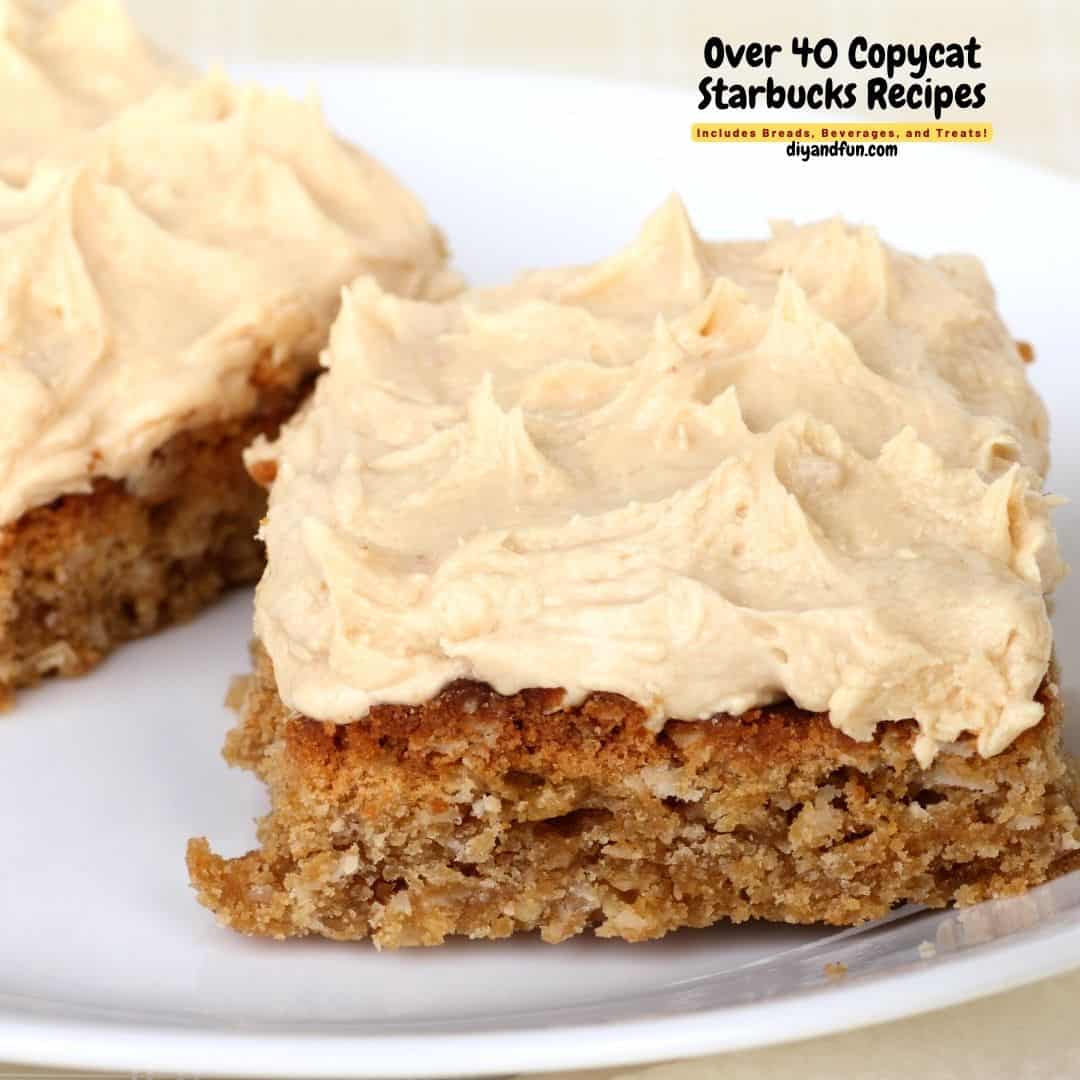 👉 10 Delicious Desserts inspired by Starbucks.
👉 10 Copycat Starbucks Bread and Sandwich Recipes.
✔ 11 Mouthwatering Starbucks inspired Beverage Recipes.
Over 40 Copycat Starbucks Recipes, the ultimate listing of inspired recipes, includes beverages, breads, and treats.
How to use this listing.
Visit the recipe.

Click on the link(s) that lead to the recipes. This is where you can find the details that you may be interested in learning about.

Share on social media.

You can share this listing on your social media to reference later.

Pin Recipes

Save recipes in Pinterest folder to find later on.
Related ideas ...