12 Frugal Family Activities for Winter that are easy to do.
These ideas are perfect for fighting those winter doldrums.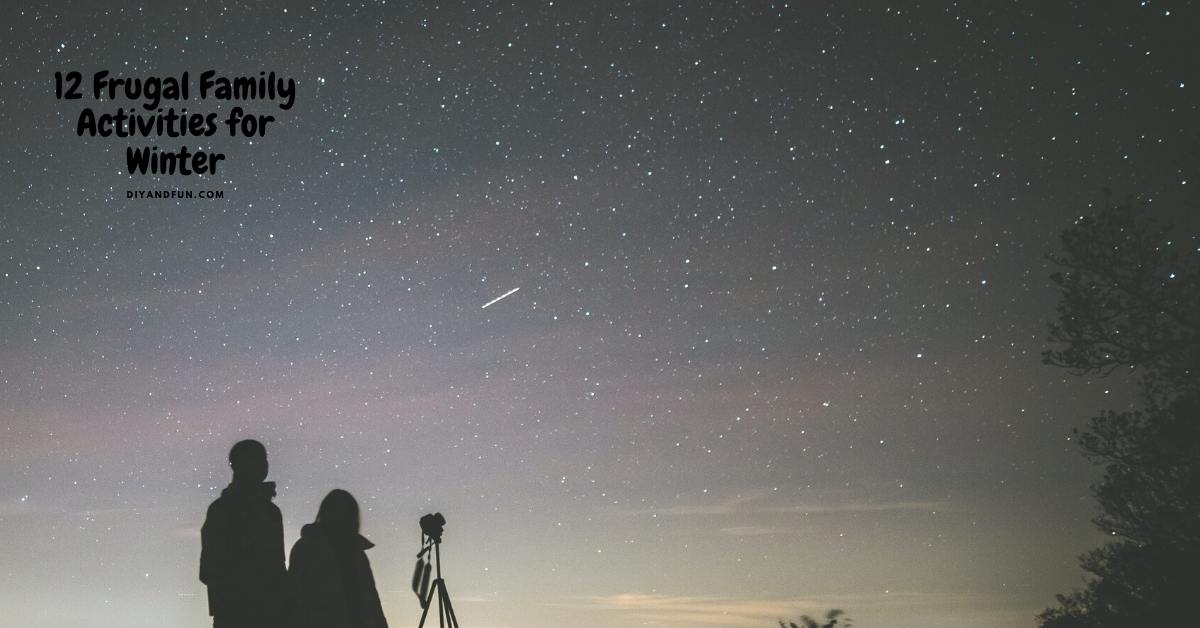 12 Frugal Family Activities for Winter
Simple and easy ways that that a family can spend time together.
I like how inexpensive these ideas are as well!
Have you seen my ideas for 25 Fun Family Winter Activities?
If you cannot find a fun idea here, you should check out that article for even more family fun ideas.
While the ideas in this article are meant to be of a more frugal mind, many of those ideas can work for you as well.
Kids also like to spend time alone. You can find ideas for kids activities here.
This article is especially for anyone asking what are some examples of family activities.
Technically, a family activity can be about anything that family members can do together.
This can be anything from taking a walk to baking cookies.
Sometimes however, you need something new or different to do as a family.
This article will share many options for you to choose from.
The options in this article are frugal or inexpensive to free to do.
You may be wondering what are unique family activities.
Unique activities are those activities that you may normally think about doing.
Or, they can be activities that are not common activities to do.
Obviously, what is unique to one family may not be unique to another.
That is fine. This is because the goal of family time it to spend time together.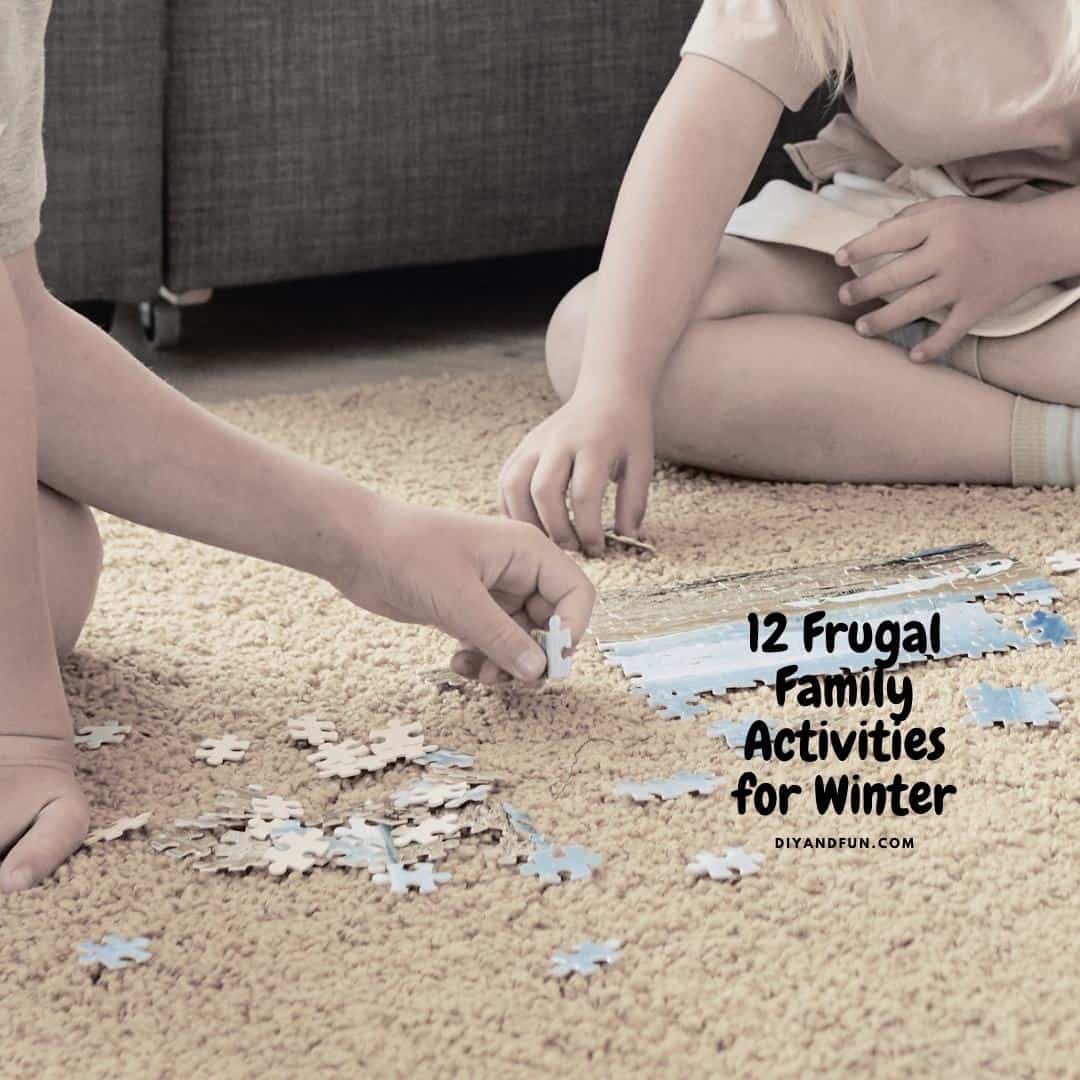 Tips for spending quality time together.
Time and how we spend it is important to all of us.
As a result, being organized is important, yet easy to do.
More tips for you
Get everyone involved in planning the activities. A good way to do this is to have a family meeting and ask family members for ideas.
Set a budget. Each activity can be a free activity or an inexpensive activity with a budget.
Make a date for each activity and put it onto the calendar. You can send out reminders if needed.
Be sure to follow us on Facebook, Pinterest, and Instagram.
Subscribe to our Weekly Newsletter.
↓(Keep Scrolling to Continue Reading)↓
You may also be interested in these ideas.
1. Start a family book club.
Ask family members to suggest a book and choose one that is suitable for everyone to read.
Give family members a certain amount of time (depending on the size of the book etc.) to read the book.
Have a book club meeting.
Allow everyone to give their opinion of the book and provide their favorite chapter or idea.
At the end of the meeting family members can discuss their next book club selection.
2. Build a snowman contest.
Depending on the size of your family, you can split up into teams or do this individually.
Simply build a snowman or snowwoman.
You can compete or not compete with this idea.
Competition ideas include who can build the largest or quickest snowman.
Do not forget to take pictures!
3. Make S'mores
S'Mores are a treat that we usually enjoy during the summer months.
However, you can still make S'Mores indoors or warm up that grill in the backyard.
One of the best things about making your own s'mores is that you can do it indoors or outdoors.
Indoor S'Mores are as simple as a microwave oven.
Another option is to make a Simple S'Mores Snack Mix instead.
4. Build a Snow Cave
This is especially a nice idea if you have plenty of snow to build your cave with.
The cave can be as simple as digging out a hole on the side of large snow pile.
You can still make a cave without snow.
All it takes is an old blanket or sheet.
Simply drape it over two chairs in the backyard and you can have a cave!
5. Make a Bucket List
A bucket list can be a short list of everything you aspire to get done in a week or a month.
Or, a bucket list can be for a longer time such as a year or la lifetime.
Writing the list out and posting it can be helpful
This allows for checking off each item once it has been met.
Tip: keep the bucket list short and achievable.
6. Have a Winter Karaoke Party
Using a Karaoke Machine can be a lot of fun. Everyone can take turns singing their favorite tunes.
What if you do not have a Karaoke machine?
You can simply fake it by using a hairbrush, empty cardboard tube, or similar item as a microphone.
Music and lyrics can be easily found on a phone or computer.
7. Have a Play Dough party.
You can make your own or buy play dough. Here is How to Make Edible Play Dough
Tools and gadget are as simple as using old kitchen tools.
Rolling pins from a dollar or thrift store are handy with this idea.
This is one of those activities that is fun for all ages too!
8. Popcorn Night.
Popcorn is a popular snack for all ages.
While it is a go-to for movie watching, there are other ways to celebrate popcor.
For a popcorn party you can serve up three different kinds of popcorn.
Plain popcorn is an easy start to a party.
Adding sweet and salty ingredients, such as chocolate candy or raisins, can add to the enjoyment.
9. Family puzzle night.
There are so many great reasons to put together a puzzle.
Do so as a family makes those reasons even better.
You can find an assortment of puzzles to choose from here.
Choose a puzzle that is easy enough for all ages to help put together.
Tip: use a puzzle mat to easily store the puzzle away.
10. Paint a Winter Picture
An old fashion paint by numbers idea is easy and fun to do. Everyone can paint their own painting or share the effort with others.
There are other options for a family painting idea too.
Giving everyone a canvas and paint and using a vase or a family pet as a model is one idea. Or, family member can simply paint a winter landscape from looking out a window too.
11. Make a Craft.
There are some fun ideas for making a family inspired craft.
Making snow flakes from printer paper is just one of them.
Or, you can go more specific with your craft.
Choose a craft in a box such as bracelet making or making puppets. Another option is to simply paint rocks that can be displayed in your garden.
12. Watch the sunset.
There are some beautiful sunsets during the winter months.
The good news is that they happen before dinner time too!
Watching the sun as it sets can be done in your own backyard.
Or, you can venture out to a local park to witness it too.
By the way, if you stick around long enough, you can also see the stars in the sky!!
12 Frugal Family Activities for Winter, simple and inexpensive ideas for spending quality family time together when it is cold outside.