Mini Heart Shaped Pizzas are a fun romantic meal or snack idea.
I like that this recipe is perfect for Valentines day too!
Mini Heart Shaped Pizzas
This is a recipe for how to make individual heart sized pizzas.
You may be surprised at how easy this recipe is to make as well!
Did you try my recipe for Easy Pizza Monkey Bread?
That monkey bread recipe has some of the same ingredients as this mini pizza recipe.
However, this recipe makes individual servings and that monkey bread is perfect for sharing.
To make these mini pizzas you will need a heart shaped cookie cutter. You can find a good selection of heart shaped cookie cutter here.
This recipe is especially for anyone asking who has a heart shaped pizza for Valentines day.
While this heart shaped pizza recipe can be enjoyed any day of the year, Valentines day is the perfect day to eat one.
This is a homemade gift or celebration idea that not only tastes good, it is also easy and inexpensive to make!
Making a heart shaped pizza is not that hard to do.
The trick for making one is to use something heart shaped to cup out the hearts.
This is way easier than cutting each pizza into a heart shape!
You may be wondering what size is the heart shaped pizza.
The heart shaped pizzas in this recipe depend on the size of the cookie cutter that you are using.
Heart shaped cookie cutter come in different sizes.
The size of the cookie cutter you should use is up to you.
To make smaller pizzas for appetizers, you can use a two or three inch sized cutter.
However, using a larger cookie cutter will yield a more individual sized pizza result.
Tips for making heart shaped pizza.
This recipe is made using refrigerated pizza dough that you can purchase at your local grocery store.
An inexpensive or store brand could work just as good as a fancy one in this recipe.
More tips for you
Lightly flour your work area before you roll out the pizza dough. This will make it easier to transfer the pizza to the baking sheet.
This is a fun idea for a small party project or group of people to make together. Using individual parchment paper sheets can be used for preparing, baking, and serving the pizzas on.
Pinching the edges of each heart before adding the toppings is a good idea if you are wanting a crust. This will also add an edge for the hearts.
Personalize your heart shaped pizzas.
These mini pizzas are great just the way they are.
However, you can take them up a notch.
Try one of these ideas.
Use a low carb baking mix instead of store bought dough to make this a low carb heart pizza.
Vary the sizes of the heart cookie cutters for some variety.
Use a white pizza sauce and top with red peppers for something different.
Be sure to follow us on Facebook, Pinterest, and Instagram.
Subscribe to our Weekly Newsletter.
↓(Keep Scrolling to Continue Reading)↓
You may also be interested in these ideas.
About this recipe for heart shaped pizza.
This recipe for homemade heart shaped pizza makes individual or appetizer sized pizzas.
The size of the pizzas that you make is up to you and can be varied.
This is a simple and an inexpensive recipe idea.
To make this you will need a premade pizza dough.
However, you are welcome to use your own dough if you desire to.
Ingredients needed to make mini pizzas.
Refrigerated pizza dough-1 tube. You can however use the pizza dough of your choice including homemade.
Pizza Sauce- 1 cup.
Mozzarella Cheese- 1 cup shredded. Feel free to use the cheese of your choice or a blend.
Toppings such as pepperoni or vegetables.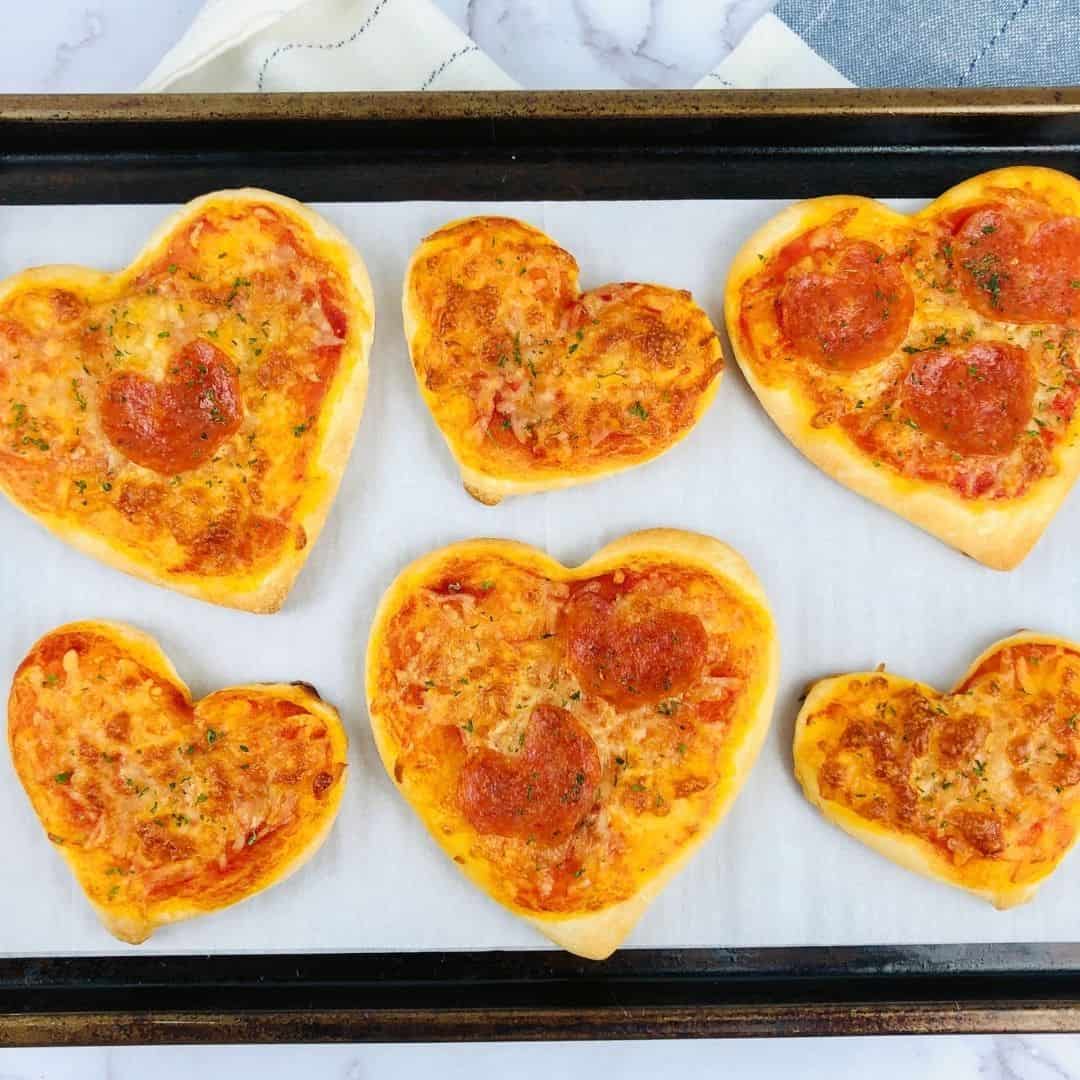 You will need Heart shaped cookie cutters to make this recipe idea.
How to make Mini Heart Shaped Pizzas
Step One: prepare.
Preheat your oven to 375.
Prep one or two rimmed baking sheets with parchment paper.
Step Two: prepare the dough.
On a clean work surface or large sheet of parchment paper, roll out the dough evenly. You can use a mini rolling pin or pizza roller if needed.
Use a heart shaped cookie cutter to cut out the individual hearts for the crust.
Then carefully transfer the hearts to the prepared baking sheets, leaving room between the hearts for growth.
Step Three: finish and bake the pizzas.
Top the pizzas with sauce, leaving about ¼-1/2" from the edges.
Then top the pizzas with additional toppings.
Bake the pizzas for 12-14 minutes or until they begin to brown.
Mini Heart Shaped Pizzas, a really simple recipe idea for making a Valentines Day or romantic pizza. Low carb option.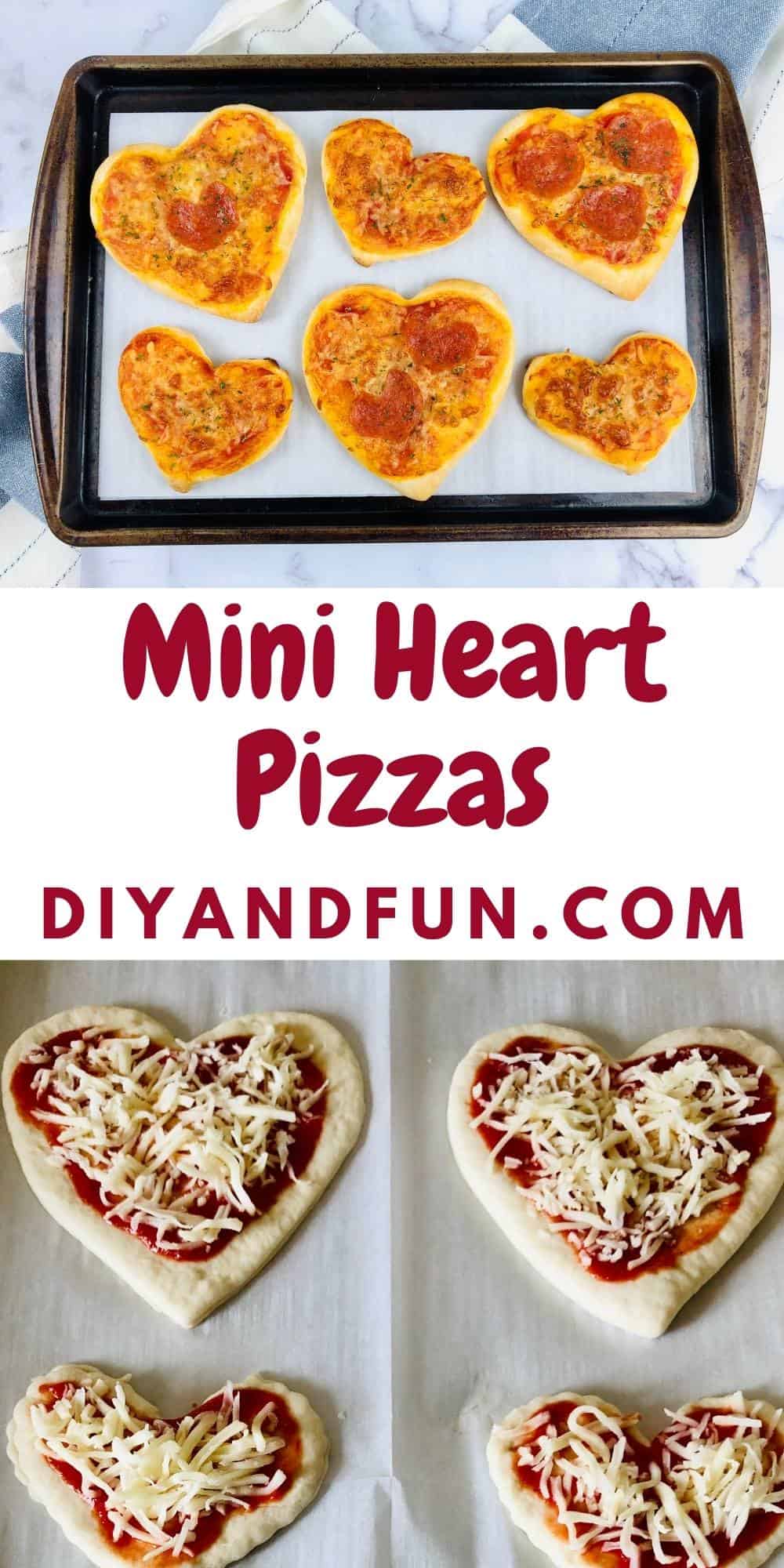 wp