Puppy Dog Valentines Day Card DIY project that is easy to make.
I really like how cute this card is too!
Puppy Dog Valentines Day Card DIY
This is a simple craft project that is suitable for many ages.
Make this personalized card for Valentines day or any card giving occasion!
Did you make my Kissing Clothespin DIY project?
That is another cute idea for Valentines or any day.
This card would look cute with that clothespin attached to it!
This card works great when made on cardstock paper. You can find cardstock paper here.
This project is for anyone asking what is the best gift of Valentines day.
What could be better than a homemade card?
This card is a keeper!
This cute homemade card is a nice gift idea for just about anyone.
You can give this card as a Valentines gift alone or with something else.
Personalizing this card is easy too!
You may be wondering how do you make a dog Valentine card.
By the way, this card is a cute idea to give to a dog or a person who cares about dogs.
Including a treat would certainly be appreciated.
This card is relatively easy to make.
I have provided you with a template to use to cut out the pieces needed to make the dog.
You will need to simply glue these pieces in place on the card.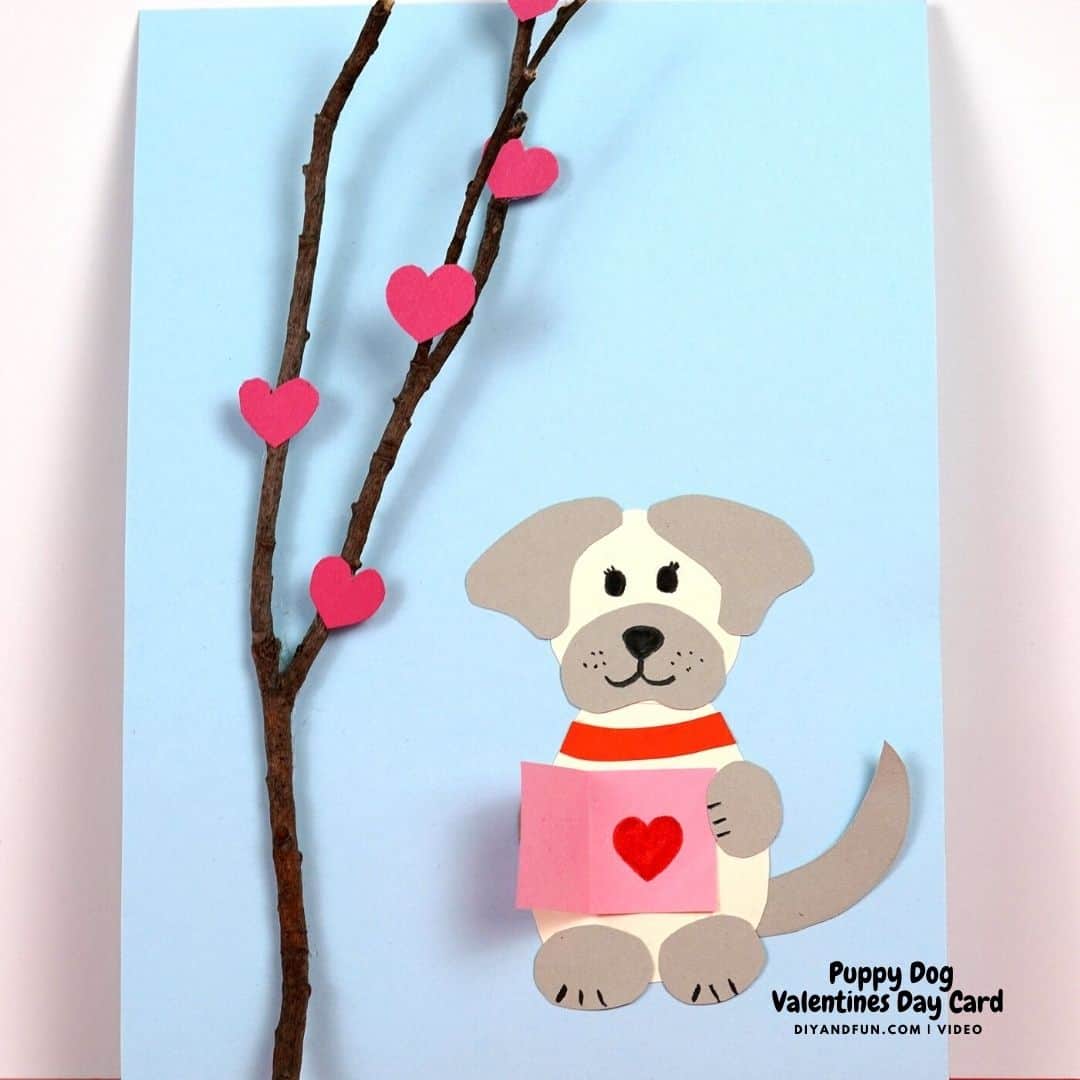 Tips for making a homemade card.
When you print out the template for the dog, I would suggest that you print it out on a more sturdy paper such as cardstock. This will ensure that it will hold up when you trace the edges.
More tips for you
Print out more than one of the templates. I always find that it is nice to have a back-up in case something happens.
I like to purchase construction paper that comes in multipacks. It is relatively inexpensive to do so and you get a variety of colors.
Have an alternative stick available in case the one that you have selected does not work. Also, make sure that your stick is dry and clean of debris.
Personalize this homemade card.
This card is really cute just the way that it is.
However, you can take this project up a notch.
Try one of these ideas.
Write something on the card such as the recipients name or a cute phrase.
Use alternative colors for the puppy.
Decorate your card using Valentines day inspired stickers.
Be sure to follow us on Facebook, Pinterest, and Instagram.
Subscribe to our Weekly Newsletter.
↓(Keep Scrolling to Continue Reading)↓
You may also be interested in these ideas.
About this Valentines day homemade card craft project.
This is a simple way to make an adorable puppy card to give to someone.
While this project is intended for Valentines day, it could be used for other occasions including birthdays or holidays.
To make this project you will need to download my template.
I suggest that you print the template on a thicker paper or cardstock.
This is because you will be using it to trace the pieces of the dog that will need to be cut out.
Materials needed to make this diy dog project.
Construction paper in different colors. My card uses white, red, both dark and light pink, grey, and blue construction paper.
Cardboard or poster board that can be used as the card itself.
Optional- envelop for the card.
Small heart stickers. Optionally, you can cut your own out from red pink construction paper.
A stick. Choose an interesting looking stick that is dry and free of debris. If you cannot find one use a brown pipe cleaner instead. While you could simply draw a branch on the paper, you will lose that 3-d element that makes this card so interesting.
Glue, pencil, scissors, markers and the template.
How to make this Puppy Dog Valentines Day Card DIY.
Note: if you are adding a greeting to the inside of the card, I suggest that you do this before you glue the elements on to the front of the card.
Step One: prepare.
Gather all of the needed materials.
Download the template.
Step Two: make the dog.

Print out the template and cut out the objects outlined on the template.
Refer to the images in this project post to select the color construction paper that you will use for each of the elements for the dog.
Then use the selected colors to trace the templates on to before you cut them out to make the dog..
Take the cardboard or cardstock that you will be using for the base of the card and fold it in half (landscape). The right side will be used for the front of the card. You can glue on a colorful background, such as the blue that is used in my card.
Then glue the pieces of the dog in place. Note that the dog is holding a small 'card' made from light pink paper. Finish the dog by giving him or her a face.
Step Three: finish the card.
Glue the stick on to the card and then decorate with the heart sticker or draw or glue on your own hearts.
Add additional details such as words or a greeting.
Puppy Dog Valentines Day Card DIY, a simple craft idea for making an adorable homemade card. Video and template.