The Ultimate Beginners Guide to Kayaking is for anyone wanting to learn more about the sport.
While it can take a few tries to get use to kayaking, I like how enjoyable kayaking can be once you do get started.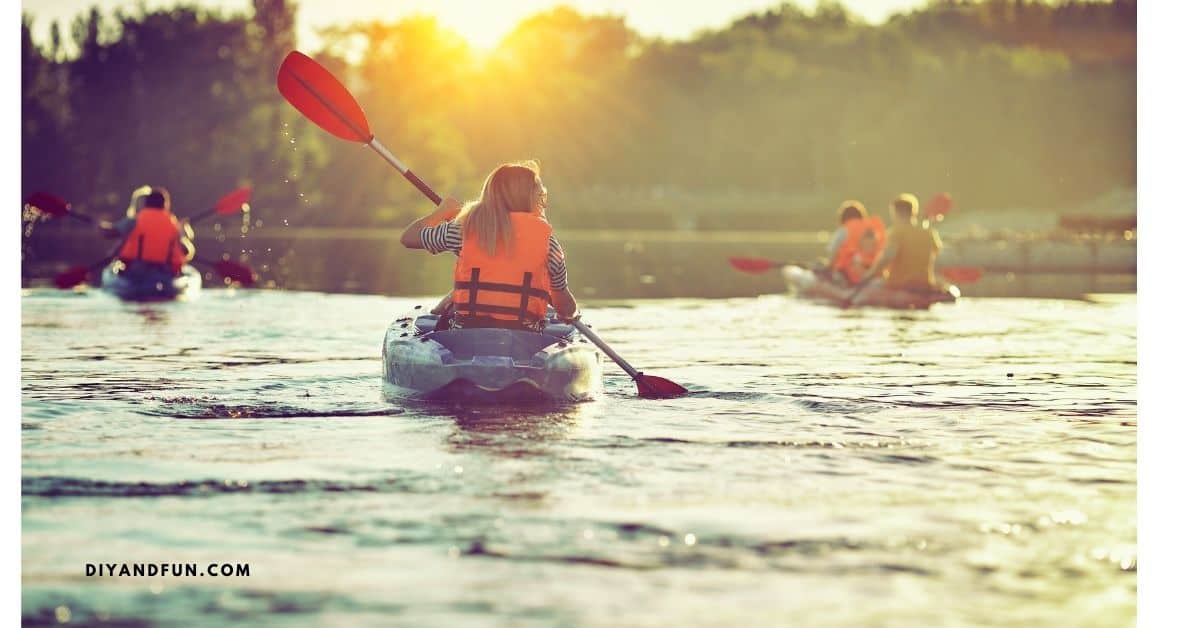 What to know about kayaking for beginners.
Kayaking is a recreational water sport that is done in a narrow watercraft (kayak) and has been done for hundreds, if not longer, years. When you go kayaking you are sitting in a small opening in the watercraft and use a double sided paddle. You can use the paddle on both sides of the vessel to guide your craft through water.
There are benefits of kayaking.
Kayaking is considered to be an excellent form of exercise that focuses on your core strength and your upper body strength.
What I like best when I go kayaking is that I am connecting with nature while enjoying some serenity .
The different kinds of kayaking.
Kayaking can be categorized by the kind of water that you are kayaking in and the movement of that water. There are easy kinds of water locations for kayaking and more challenging kinds of kayaking.
Categories of kayaking.
Flatwater Kayaking: Possibly the easiest and most common kind of kayaking as it is done in calm bodies of water such as lakes, ponds, and slower moving rivers.
Recreational Kayaking: This is a more casual kind of kayaking that you have probably seen at a local campground or lake. It is meant to be relaxing more than anything.
Whitewater Kayaking: This is the type of kayaking that requires skills as it involves navigating down turbulent and fast-flowing rivers which usually includes various obstacles which require skilled paddling techniques.
Sea Kayaking: As you can guess, this kind of kayaking takes place in coastal areas and open waters.
Touring Kayaking: This is an organized kind of kayaking done in groups and can take more than one day as a trip or vacation.
Before you started kayaking- tips for kayaking beginners.
I believe that kayaking for the first time is both a fun and a memorable experience. However, there are some steps to help you get started before you head out.
Here is what to keep in mind.
Safety is paramount in kayaking which is why everyone should wear a personal flotation device (PFD) and follow safety guidelines while kayaking.
When starting out, look for a kayaking location that offers rentals and guided lessons or tours specifically for beginners. Usually there are local recreational areas or outdoor centers that can help you out .
Choosing the right kayak is based on your height, weight, and skill level. You can start by renting, rather than buying, a kayak as there should be someone knowledgeable that can help you get into the best kayak for you.
Essential Gear that you will need includes a properly fitted personal flotation device or life jacket, sun protection, appropriate footwear, and clothing that you can get wet.
Should you take A kayaking For beginners course?
Most anyone could probably get something out of taking a kayaking course. You never really know what you don't know until you need to know it, right? The good news is that a helpful course can be as simple as attending a short orientation session.
Here are some reasons for taking a kayaking course.
Learn basic paddling techniques, safety tips, and essential information that can make a kayaking experience even more enjoyable.
Get aquatend with a double-bladed paddle (the most commonly used paddle in kayaking).
Learn the basic paddling Techniques such as the commonly used forward stroke and sweep stroke.
Practice Getting In and Out of the Kayak. This can be a tricky thing especially if you have never done it before. Nobody wants to capsize their first time getting into a kayak.
Lastly, you can learn tips and tricks from someone who knows kayaking and you may meet others just getting started too!.
Be sure to follow us on Facebook, Pinterest, and Instagram.
Subscribe to our Weekly Newsletter.
↓(Keep Scrolling to Continue Reading)↓
How to get started for kayaking beginners.
You have done your research, attended a class, and you have purchased the gear. Now you are ready to get into the kayak and paddle.
Here are some tips to keep in mind when you are starting out.
Start in calm water, like a small lake, on your first time out to minimize the challenges.
Paddle at your own pace rather than trying to keep up with others. You can keep up later when you are more confident in your kayaking.
Observe the rules and safety guidelines of the locations. This includes wearing a personal flotation device.
Respect the surroundings. Know when to not make a lot of noise for example.
Who should and who should not kayak.
Kayaking is a fun way to enjoy nature while getting a bit of a workout. Just about any skill level can enjoy kayaking. However, kayaking is not for everyone.
Who kayaking may not be best for.
Anyone who cannot swim or may feel uncomfortable in the water.
Folks with a serious health conditions such as a heart condition. If in doubt, you should consult your healthcare provider before kayaking.
Young children should be supervised closely when kayaking.
Anyone who is uncomfortable in closed spaces (claustrophobia).
People who are unwilling to follow safety guidelines.
The Ultimate Beginners Guide to Kayaking Here is what you need to get started.
The Ultimate Beginners Guide to Kayaking, includes the basics about kayaking, getting started, and who kayaking may not be best for.
Kayaking is a versatile and enjoyable activity. I like that kayaking is a way for people to explore and appreciate the natural beauty of waterways while experiencing the thrill of paddling.
Beginning kayakers and those with limited experience should start in calm and controlled environments. If you have any doubts or concerns, consult with a professional kayaking instructor or guide for advice and assistance.
👇👇Related Ideas.👇👇
Thanks so much for visiting!
If you decide to try any of the ideas listed in this article please tag on social media @diyandfun. We like to hear your ideas and suggestions.
DIY and Fun is a website dedicated to providing you with the best DIY projects, crafts, recipes, hiking, and fun ideas that inspire. Whether you're looking for a new way to decorate your home, learn a new skill, or simply have some fun, DIY and Fun has something for everyone.
Here are some additional ways to keep coming back to DIY and Fun:
Sign up for our email newsletter. We'll send you weekly updates with new projects, inspiration, and more.
Our community forum is coming soon. Share your projects, ask questions, and get inspired by other DIYers.
We hope to see you soon!
-Mary and Mike.