The Step-by-Step Easy Beginners Guide to Snowshoeing including a simple and essential Guide to Buying the Best Snowshoes.
This is perfect for anyone wanting to learn more about a fun outdoor activity that can be done without spending a lot of money.
Easy Beginners Guide to Snowshoeing that is easy to follow .
Because snowshoeing is not only a way to get around in the snow, it is also great exercise.
Snowshoeing is a great workout that can burn major calories depending on the the terrain, weather, and your effort.
Did you read my Essential Tips on Dressing in Layers for Winter Hikes?
That article can help you prepare for that winter snowshoeing adventure. Read about what you need to know when you dress for the outdoor elements.
Are you looking for basic entry level snowshoes at a good price? You can find a selection of snowshoes here.
Frequently asked questions about snowshoeing.
What is snowshoeing?
I like to think of snowshoeing as a cross between hiking and cross-country skiing.
This is because you are hiking on snow yet, using your poles to help guide you.

Technically, some sort of snowshoeing has been going on for thousands of years.
To this day, snowshoeing is both a means of getting around in the snow and a means of recreation.

Is snowshoeing difficult?
Some folks like to compare snowshoeing to skiing or hiking.
To some, while snowshoeing my not be as hard as skiing, it is somewhat easier than hiking.

Here is what to keep in mind when it comes to judging the difficulty of snowshoeing.
🔵 The amount and kind of snow on the ground.
🟡 The terrain of the trail.
🟣 You level of fitness and how you snowshoe.
Easy tips for snowshoeing for beginners.
Snowshoeing is a simple activity to learn that does not have to cost a lot of money to do. I like to start simple with my equipment and learn how to use it before investing into something more expensive once I know what to look for.
More tips for you
It is a good idea for beginners to start with easy flat trails. Beginners can use A small, lightweight and maneuverable shoes.
More advanced snowshoers often use trails with deep powder and a more challenging terrain. These snowshoers can use larger, flotation-style shoe that will distribute their weight better.
Look for shoes that come with poles. If you need to purchase poles, look for poles that come with snow tips and with grips that are made with cork as the grips can get really cold. I find that the cork does not get as cold as plastic grips for example.
Before selecting snowshoes, consider the how you will be using them.
Will you snowshoe in your backyard or local park? Or will you be heading to a trail that may be packed with snow and not maintained?
Select a snowshoe that is best suited to your activity.
Snowshoes come in three basic types—recreational, backcountry, and alpine—with each offering its own advantages.
Recreational snowshoes are designed for short treks or basic trails and have simpler designs with narrow frames and lighter materials for comfort.
Backcountry snowshoes are built for more serious trekking over rough terrain and feature wider frames that offer better flotation.
Alpine snowshoes boast aggressive U-frames and extra special features like crampons or larger bindings designed for steep terrain and packed cushioned snow.
When it comes to snowshoes, there are different sizes available.
The sizes can be influenced by the size of your foot and the intended use of the snowshoes. Snowshoes generally come in sizes ranging from 22 to 36 inches in length.
Take in consideration how you will be using the snowshoes.
As a general rule of thumb, longer snowshoes are suited for deeper snow and snow that is more powdery (for floatation). Shorter shoes tend to be better for packed wet snow and groomed trails. Shorter snowshoes are easier to maneuver and have better traction.
Expert Tip 👉 It is a good idea to measure your feet before purchasing snowshoes. This should be done to determine the right size before deciding on a pair to buy.
How to Check for Quality and Durability Features when buying Snowshoes.
Let me start by mentioning that you should read the reviews and do your research. This is because quality and durability are very important factors when it comes to snowshoes.
Make sure to look for essential features
These features may include sealed decking, the kind of binding used, and whether the snow shoes have shock-absorbing features. Also, certain materials, such as aluminum, can provide greater durability than others, making them well worth investing in if you plan to use your snowshoes long-term.
Lastly, you can talk to experienced winter sport enthusiasts that you may know to find out more about different brands and models.
When looking for snowshoes, find the right price for your budget.
My first pair were inexpensive and purchased on a whim online as I was curious about the activity. However, I have also seen snowshoes at my local warehouse clubs!
You can find the right balance between quality and a reasonable price.
Although you should opt for good quality snowshoes (both durable and comfortable) be willing to compromise as needed. You can research features carefully before making a decision so that you can get the best value for your money.
Lastly, keep an eye out for sales and discounts — they often provide great savings on high-quality products!
Expert Tip 👉 Snowshoes attach to your boots. Therefore, it is best to wear winter boots that have good insulation, are waterproof, and that are tall enough to prevent snow from getting inside.
👇You may also be interested in these ideas!👇
Be sure to follow us on Facebook, Pinterest, and Instagram.
Subscribe to our Weekly Newsletter.
↓(Keep Scrolling to Continue Reading)↓
Easy Beginners Guide to Snowshoeing how to start.
To get feel for how to walk in snowshoes, actually put the snowshoes on over the boots you intend to wear with them. This is also a good time to get the straps adjusted to your needs.
Remember that you are essentially wearing something on your feet that is much larger than usual.
Make adjustments in your stance as your stance will need to widen to accommodate the width of the shoes.
Get use to lifting your legs and feet with the snowshoes on (think clown shoes or swim fins) .
When taking steps, land on your heel and then roll your foot towards your toes as you walk.
Prepare for the Weather and Terrain.
Your snowshoes have been fitting and you are ready to head out. Also, you have practiced walking in your snowshoes to get used to them.
Before planning your snowshoeing adventure, make sure to check the forecast and trail conditions.
Check the weather forecast before you head out to prepare for wind, temperature, and precipitation.
Use the forecast to help you select a location for your adventure.
Research the location to make sure that it is open and in good condition for snowshoeing.
Check trail reports as they can give you insight into terrain difficulty as well as provide any closures or warnings.
Knowing the kind of terrain that you will be visiting can also help with your gear and clothing selection.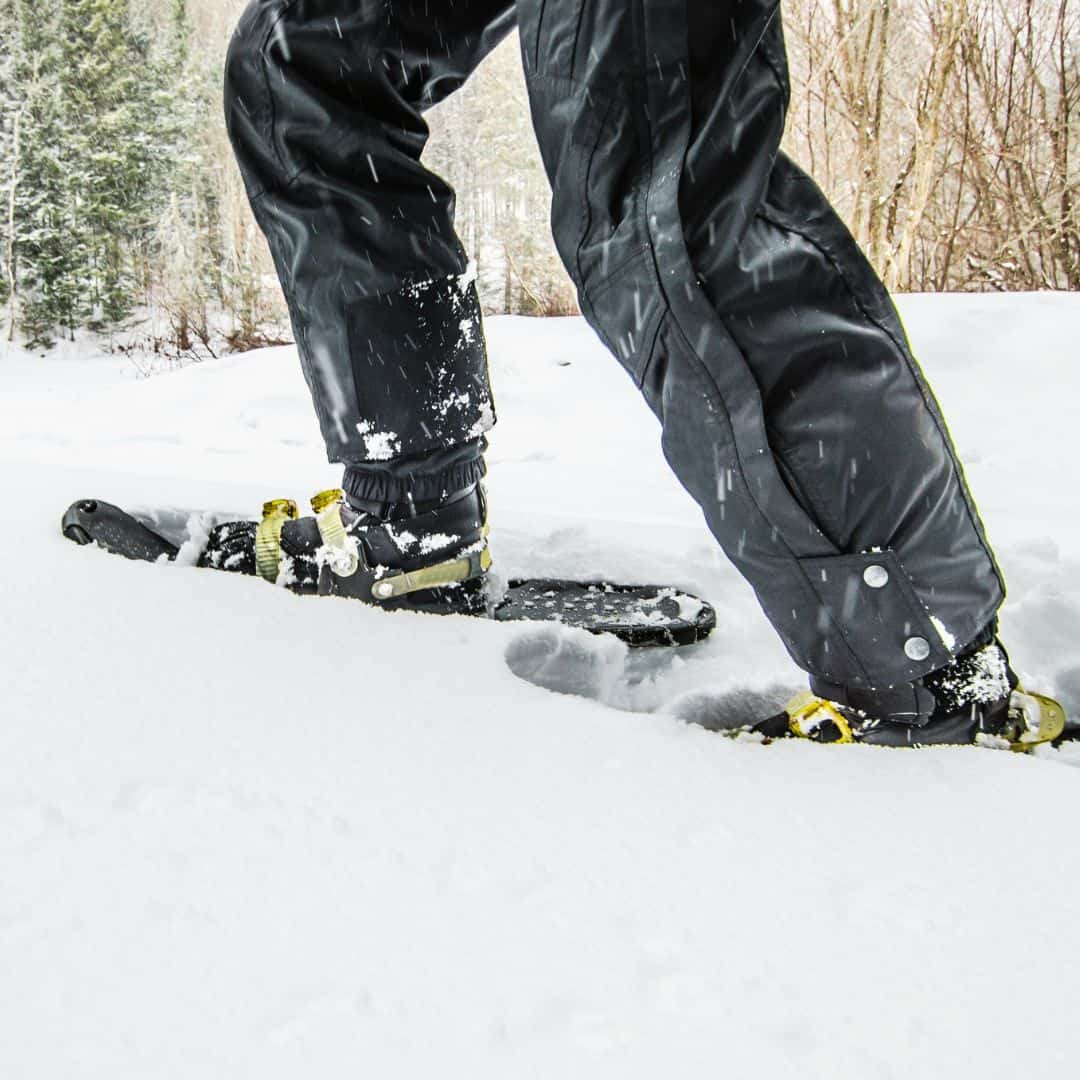 Dress in Layers for Comfort and Protection.
I find that it is always best to overdress rather than under-dress for the weather.
This is because you can always remove items if you get too warm while snowshoeing.
It is always a good idea to dress in layers when planning a cold day adventure.
Base layer- this is the layer that is closest to your body and its primary purpose is to keep you dry (from sweat etc).
Mid layer- provides insulation to help keep your body heat from escaping. Outer shell- this is the layer that keeps the elements, such as cold and wet, out.
Outer shell- this is the layer that keeps the elements, such as cold and wet, out.
What to bring with you when you go snowshoeing.
Start with a backpack this is waterproof and fits well.
Pack the backpack the usual first aid kit, How to Build a Hiking Emergency Kit, water, handwarmers and other essentials that you may need.
Here are suggested items to also bring with you.
Practice Maintaining Balance With Short Distances First.
When first starting out, it's best to get acquainted with the new and exciting world of snowshoeing by taking short strides and steps.
Start off slow as you are getting use to both the shoes and the movement.
It can take some time to get used to the unfamiliar movements while managing balance in such different conditions. Lastly, focus on getting your footing right and plodding along steadily.
Before you know it, you may be traversing long stretches of terrain like an expert outdoor enthusiast!
Learn Basic Snowshoeing Techniques.
The most important thing when snowshoeing is having good form. Start by standing with your feet apart just a little wider than hip-width, then crouch down and evenly distribute the weight across both your feet.
Good stance can give you stability while making sure that your arms stay free to move around.
Keep your strides short and maintain a steady pace, pushing the balls of your feet into the snow with each step. Make sure to check for any rocks or trees underneath the snow before setting foot on it
The basic steps used in snowshoeing.
The steps that you use in snowshoeing usually correlate with the kind of snow (packed versus powdery) and the terrain (flat or hilly).
Here is what you may want to keep in mind.
Fresh or powdery snow can get between your boot and the shoe. To prevent this from happening, lift the tip of the snowshoe first to kick (kick-step) the snow away as you walk.
Uphill snowshoeing is about traction and using your toe to help get traction.
Downhill snowshoeing is really about keeping your balance.
Packed snow is more about using your cleats for traction.
Expert Tip 👉 Poles are essential for snowshoeing. They help guide you, keep your balance, and can make the workout even better!

👇👇Related Ideas.👇👇
The Step-by-Step Guide to Snowshoeing for Beginners, a simple guide for selecting and properly using snowshoes for fun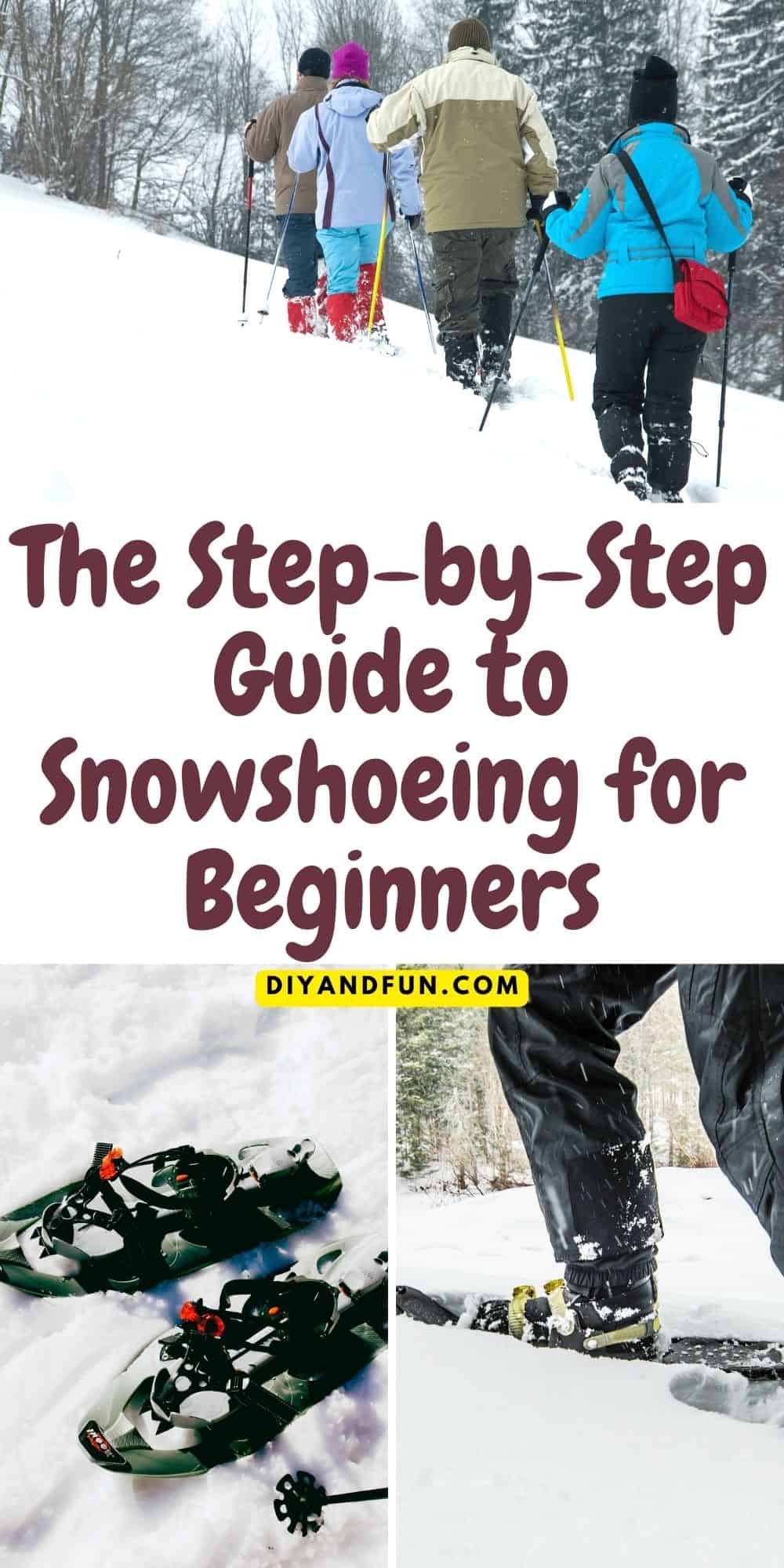 Thanks so much for visiting!
If you decide to try any of the ideas listed in this article please tag on social media @diyandfun. We like to hear your ideas and suggestions.
DIY and Fun is a website dedicated to providing you with the best DIY projects, crafts, recipes, hiking, and fun ideas that inspire. Whether you're looking for a new way to decorate your home, learn a new skill, or simply have some fun, DIY and Fun has something for everyone.
Here are some additional ways to keep coming back to DIY and Fun:
Sign up for our email newsletter. We'll send you weekly updates with new projects, inspiration, and more.
Our community forum is coming soon. Share your projects, ask questions, and get inspired by other DIYers.
We hope to see you soon!
-Mary and Mike.