Winter Hiking Tips and Essentials because sometimes cold weather and snow may be the best time for hiking.
Many of use like how different nature looks without the leaves in the trees while walking in the fresh air.
Easy Winter Hiking Tips and Essentials.
This is a simple guide for easy winter hiking.
Winter hiking often offers the best hiking experiences.
Did you red my article about 25 Ways to Make Family Hikes Fun?
There are some fun and simple ways to make hiking fun.
Many of those ideas may work for you during the cold weather too!
Winter hiking may require a few items that other seasonal hiking does not. You can find some essential winter hiking gear here.
Frequently asked questions about winter hiking.
What temperature is too cold for hiking?
The temperature and the length of time that you will be hiking go hand in hand in determining this. Also, you need to factor in what you are wearing in the elements, such as snow and wind, that are present.

As a general rule, on a sunny day with no wind and, above freezing temperatures, hiking can be done as long as you are prepared. This means dressing for the hike properly to prevent frostbite or hypothermia, limiting your time hiking as needed, and sticking to a sensible trail.
Is it safe to go hiking in the snow?
This depends on how deep the snow is and how well prepared you are for it.
What you should know is that you will not have the same kind of hike as on a dry warm day.

I wear snowshoes when there is significant snow, plenty of layers including a waterproof layer, warm insulated boots, and I cover any exposed skin. Also, I set my poles with snow baskets . Lastly, I limit my time as needed.
Tips for winter hiking.
This is the time of the year when the days are shorter and the weather can be a significant factor.
Make sure that you plan for the daylight hours and the weather for a better hike.
Here are some other factors that may differ in the winter time that you should also take into consideration.
Essential planning for cold weather hiking .
Winter hiking quick tips.
Layer dressing for cold weather hiking.
Winter hiking gear you may need.
Backpack essentials to pack for a winter hike .
Tips for how to safely hike in winter.
Essential planning for cold weather hiking.
Depending on your skill level and the weather, cold weather hiking may have to be short and less challenging. This means that more challenging trails may not be a good idea when the weather is below freezing or if there is considerable snow or ice on the ground.
Here is what to keep in mind when planning cold weather hiking
Check the weather forecast when planning your outing, just before leaving your outing, and when you are on your outing as weather usually has its own plans.
Sticking to shorter hikes and paved trails that are maintained may be a good idea in the winter months.
Keep in mind that snow hiking can be limiting for everyone no matter how experienced you may be.
Trails that are not paved and maintained probably will not be marked which can make your hike harder to do or can cause you to get lost.
Winter hiking can take twice as long to complete because of the elements around you and the layers of added clothing that you wear.
The ages and skill levels of anyone going with you on your hike.
Stick to shorter trails if in doubt.
Expert Tip 👉 Hiking in the snow can be more strenuous and take longer to do than at other times of the year. It is a good idea to factor this into your plans.
Winter hiking quick tips.
If you are someone who is used to warm weather hiking, you may be surprised at how different the trails look during the winter months. The leaves are gone from the trees and the ground may be covered with snow which may also be covering tree roots, rocks, and branches.
Here are adjustments that you may need to make while hiking in the winter time.
First check the weather and keep track on any changes that are possible.
Keep track of the time as daylight is shorter.
Stick to easy and shorter trails as winter hiking is not the same as warm weather kinking.
Even if a lake or stream looks frozen it is a good idea to stay off of it. The ice could be thin and the water may be deeper than anticipated.
If you are hiking in an area with hills or mountains, be aware of the possibility of of an avalanche of snow, rock,s or mud.
If you are in doubt while hiking, you can always turn around and head back to your car.
Stick to the designated trails rather than heading through the rough spots. Those rough spots can be misleading to the eyes.
If you are hiking with your dog, be sure to take winter precautions for the dog as well.
👇You may also be interested in these ideas!👇
Be sure to follow DIYandFUN on Facebook and on Pinterest.
I also have a weekly newsletter that you can subscribe to.
↓(Keep Scrolling to Continue Reading)↓
Layer dressing for cold weather hiking.
The best way to dress for winter hiking is to do it in layers. That way you can remove clothing when you get too warm and add clothing as needed when you get cold.
There are three layers to consider when dressing for winter hiking.
Base layer. A base layer goes closest to your body and is intended to keep you warm and dry. Synthetic long underwear that can wick sweat is an example of a base layer.
Insulating Layer . This is the center layer and is intended to insulate your body to keep the heat inside. A hoodie sweatshirt is an example of an insulating layer.
Shell Layer. The shell layer is the outer layer that goes on top of the base and insulating layers. Its job is to keep the elements (snow, rain, wind...) away from your body. A jacket or coat is an example of shell layer.
Expert Tip 👉 Look for materials that work best for each layer. A base layer material will wick moisture from your body and dry quickly. On the other hand, a shell layer will block the wind and keep moisture out.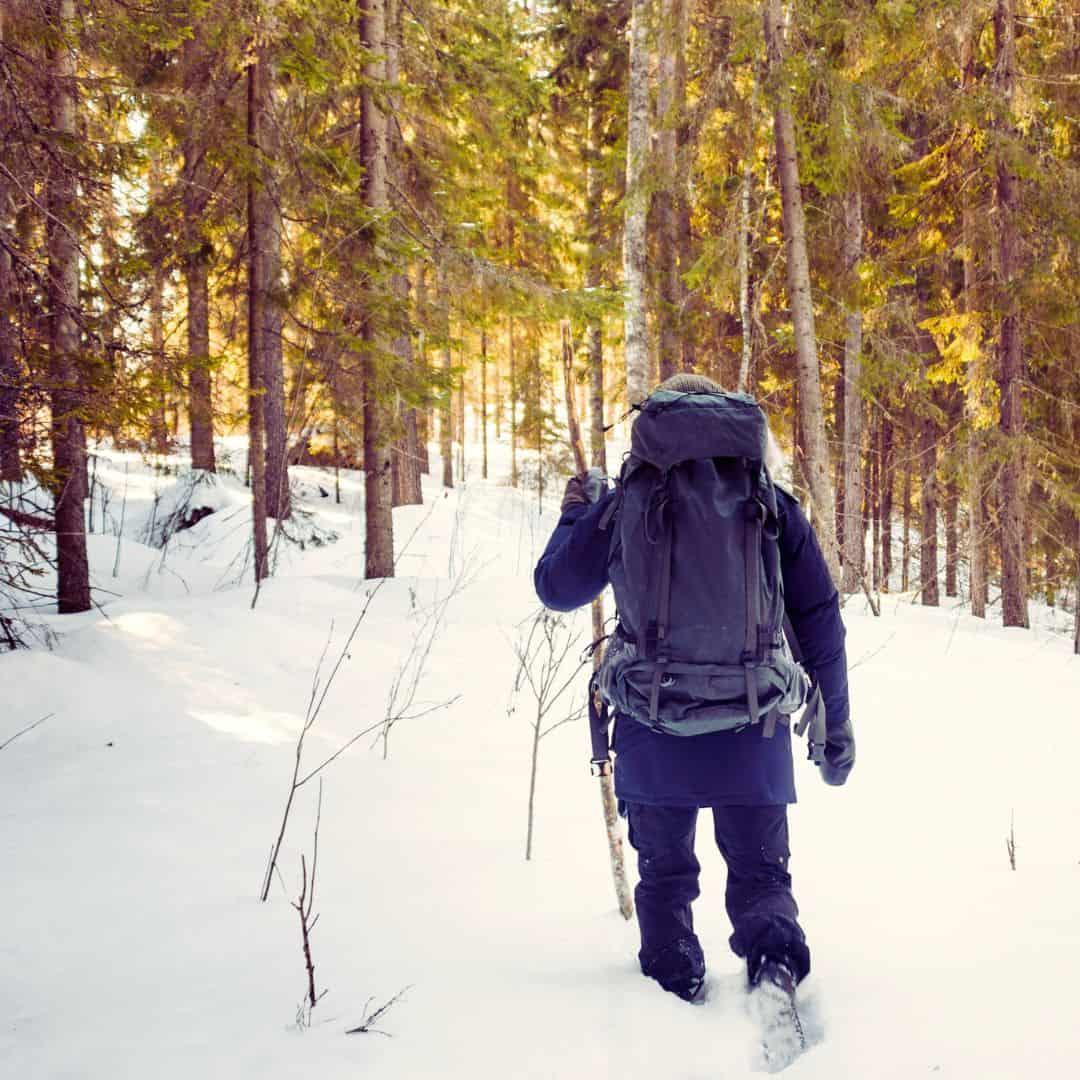 Winter hiking gear you may need.
Besides dressing in the three layers, you should also include the other exposed parts of your body. This includes your head, hands, and feet.
Here is what else you will want to wear or pack with you when you go winter hiking.
Backpack essentials to pack for a winter hike .
You probably already know that when you hike on a warm day that you should pack items such as a first aid kit and something to drink in your backpack. Winter hiking adds to the items that should also be included.
An extra pair of socks and gloves for layering or replacing as needed.
Over the shoe traction if the ground requires it.
Hiking or trekking poles are especially a good idea when there is snow and mud (switch out the tips if needed). A cork grip can help keep the handles from getting too cold as well.
Have compass on you or use on on your phone as the trail may look different.
Longer hiking times may also require a flashlight, an external phone power, and a blanket.
Neck and leg gaiters can be easily removed if need yet, they add to keeping you warm while keeping the elements out.
Tips for how to safely hike in winter.
Winter hiking can be fun and enjoyable experience. However, just as there are with other seasons in the year, winter hiking does have its precautions.
Tips and precautions to take when hiking in the winter.
Enjoy the scenery as nature tends to look different when the leaves are gone and it is cooler outside.
Because of the weather and extra layers of clothing, winter hiking can take longer to do than on a warm and clear day.
The days are generally shorter during the winter months which means your window for hiking may be shorter as a result.
When it comes to packing clothing, think layers and packing more is usually better than less.
Bringing quick snacks, such as granola bars or nuts, is probably a good idea.
Wear warm boots with good treads and that are waterproof.
I always have my walking poles set with snow baskets in place when there is snow. Walking poles will hep you keep your balance when the ground is unsteady thanks to mud and snow.
Know the signs of Hypothermia such as shivering, slurred speech and confusion, and what to do to prevent and treat it.
Leave a blanket in your car in case you need it when you return.
👇👇Related Ideas.👇👇
Winter Hiking Tips and Essentials., cold weather and snow may be the best time for hiking. Here us what you need to know.
Thanks so much for visiting!
If you decide to try any of the ideas listed in this article please tag on social media @diyandfun. We like to hear your ideas and suggestions.
DIY and Fun is a website dedicated to providing you with the best DIY projects, crafts, recipes, hiking, and fun ideas that inspire. Whether you're looking for a new way to decorate your home, learn a new skill, or simply have some fun, DIY and Fun has something for everyone.
Here are some additional ways to keep coming back to DIY and Fun:
Sign up for our email newsletter. We'll send you weekly updates with new projects, inspiration, and more.
Our community forum is coming soon. Share your projects, ask questions, and get inspired by other DIYers.
We hope to see you soon!
-Mary and Mike.