This Valentine's Day Muddy Buddy Mix is a simple snack that is fun to share.
However, I really like all of the ways that this recipe can be personalized.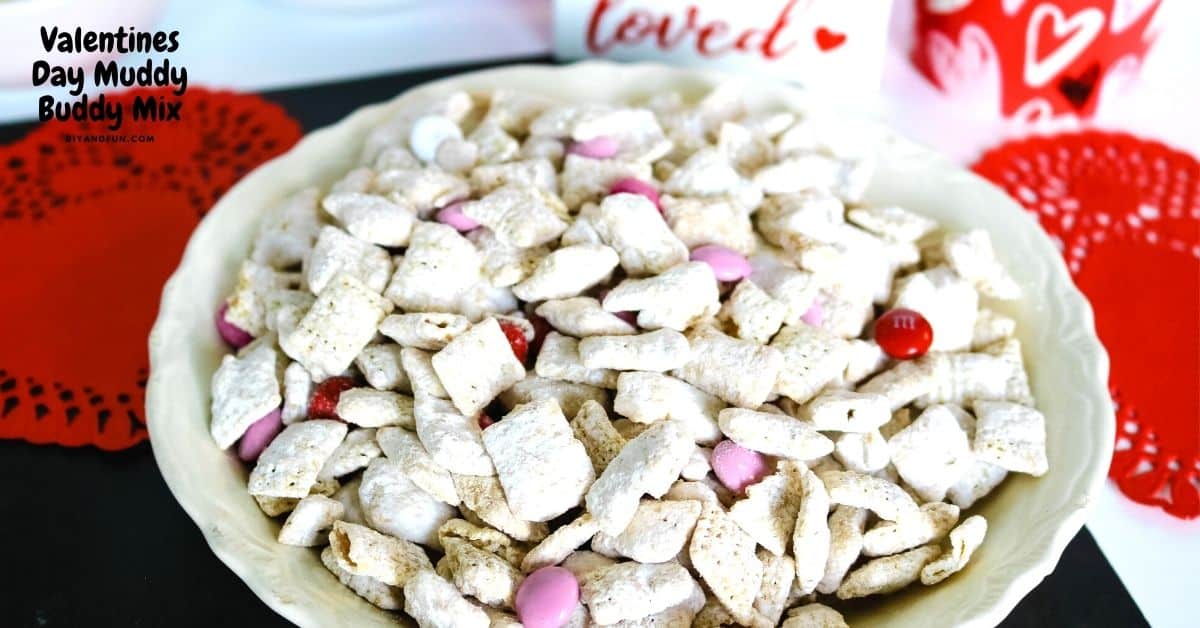 Valentines Day Muddy Buddy Mix
This is a tasty snack mix that is based on a popular cereal.
People enjoy the variety of flavors that go into a snack like this one.
Have you tried my Valentines Day Candy Coated Popcorn recipe?
That candy coated popcorn is another fun snack idea for Valentines day.
Both this snack mix and that popcorn would go nicely together on a snack table!
One way to make this recipe festive for Valentine's day is to add sprinkles. You can find Valentines day sprinkles here.
You may be wondering what exactly is Muddy Buddy Mix.
Many of us have probably seen or even eaten muddy buddy mix in the past.
The mix that you have seen or tried in the past may have looked similar to this one or more seasonable for another time of year.
However, Muddy Buddy mix is just one name for a snack mix based on Chex or Chex like cereal.
Other names for this cereal mix include "puppy chow" and "muddy munch".
Whatever it is called, a sugary coated crunchy cereal with other fun ingredients tossed in.
What is muddy buddies made of?
Like other similar snack mixes, this snack mix is made with crunchy goodness.
That crunchy goodness is both salty and sweet.
This snack mix is made with Chex cereal.
The cereal is coated with a sugary mixture.
Then is tossed with white chocolate and Valentines day candy.
Tips for making muddy buddy mix.
This is a snack mix that can be made with the help of kids of most ages.
They can make their own serving size using a zip top bag.
More tips for you
While any cereal that is large enough to eat with your fingers will work in this recipe, Chex cereal is the most common brand to use. Rice Chex, Chocolate or Cinnamon Chex, or even Corn Chex will work.
Adding a bit (½-1 tsp) of extract, such as maple extract or vanilla extract can give this some added flavor.
In case you do have leftovers, they should be stored in an airtight container. You can store your snack mix in a cool and dry locations as well.
Personalize this muddy buddies recipe.
This recipe is fine just the way it is.
However, sometimes you do not have all of the ingredients on hand or you do not like all of the ingredients that are added.
Try one of these ideas/
Be sure to follow us on Facebook, Pinterest, and Instagram.
Subscribe to our Weekly Newsletter.
↓(Keep Scrolling to Continue Reading)↓
You may also be interested in these ideas.
About this recipe for puppy chow mix.
This is a popular homemade snack idea that is simple to make.
The main ingredient in this recipe is Chex cereal.
The cereal is tossed with a sugary coating.
This is after you have topped the cereal with ingredients that have been melted together.
You can also feel free to add nuts or pretzels for a salty element.
Ingredients needed to make Valentines Day Snack Mix.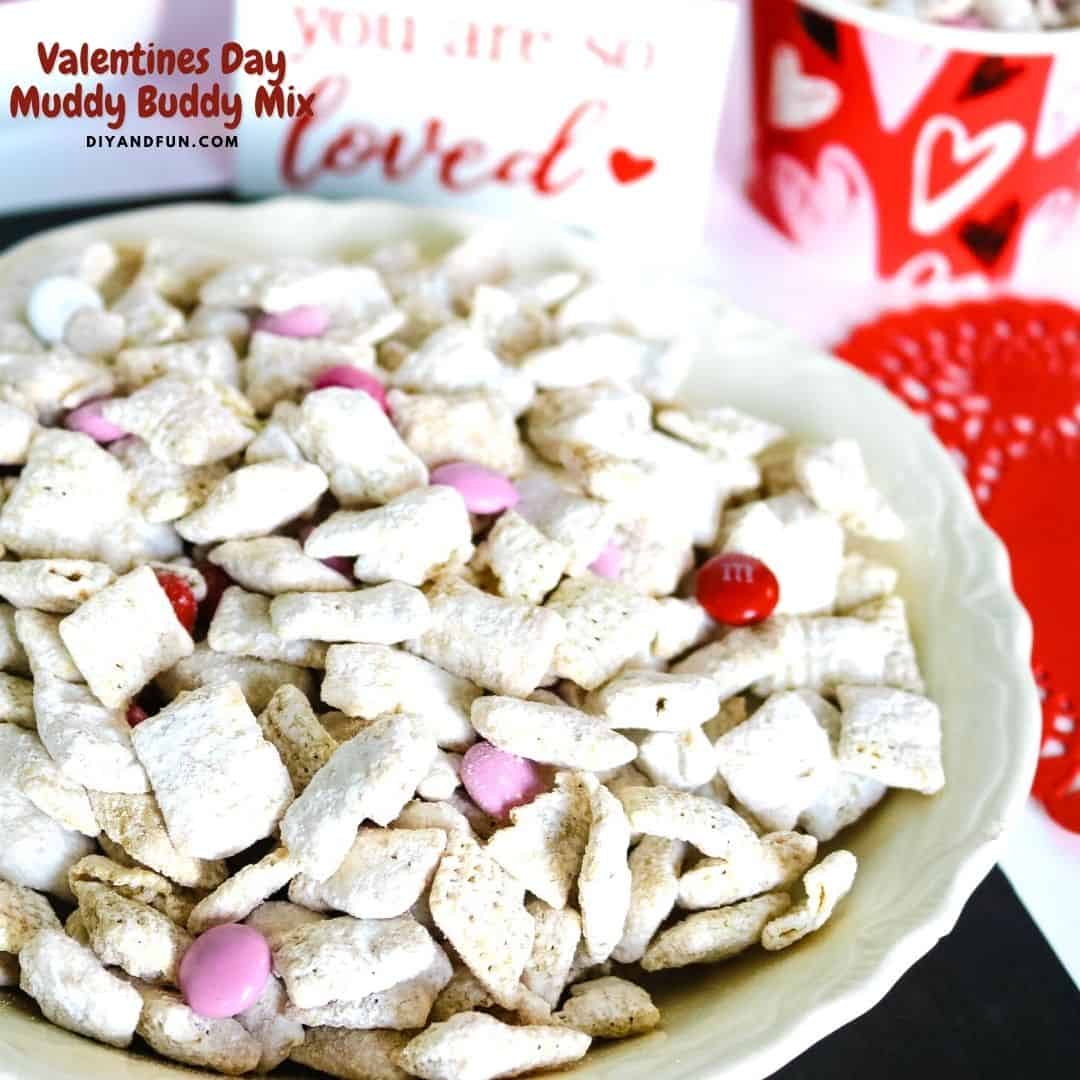 How to make Muddy Buddy Mix
Step One:prepare.

Place the cereal in a large bowl that you will use to toss the ingredients in.
Also, have two large zip top bags (one or two gallon) ready.
Step Two: melt the butter, white chocolate and peanut butter.

In a large saucepan on medium-low heat, melt the butter, white chocolate and peanut butter. Whisk or stir continuously to prevent burning. When the ingredients have melted together and the mixture is smooth, remove the saucepan from the heat and stir in the vanilla extract.
Pour the mixture over the cereal, tossing the cereal so that every piece gets coated.
Step Three: finish the recipe.

Place one cup of powdered sugar in a zip top bag.
Use a ladle to transfer about half of the cereal mix to the zip top bag. Then you can close the top of the bag and toss the cereal.
Repeat this process with the remaining cereal using a new zip top bag.
Then you can return the coated cereal to the large bowl and then you can toss in the remaining ingredients.
This mixture can be stored in an airtight container for up to a week at room temperature.
However, it can also be frozen for up to two months in a sealed freezer zip top bag.
Valentines Day Muddy Buddy Mix, a cereal based puppy chow snack recipe that is especially for Valentines day.