50 Cheap or Free Summer Activities for Families that are also fun to do.
I like that you do not have to go anywhere or spend a lot of money to do these activities.
50 Cheap or Free Summer Activities for Families
This is a listing of warm weather ideas for families to do that also do not cost a lot of money.
While not everything may be perfect for you and your family, you may still get some inspiration from the ideas.
Did you see my article about 25 Great Ideas for a Family Staycation?
If your family is in need of a vacation while staying home, the ideas in that article may work for you too.
The activities in this article really can work for an afternoon or even a weekend day.
Are you looking for travel information on a specific location? You may find the travel information that you are looking for here.
How do you entertain kids with no money?
Well certainly, there are plenty of things that you can do with a family with little or no money. Listed below are ideas that include backyard fun, neighborhood ideas, and even adventures that may be a quick drive away!
What do you do with kids on a budget?
It is important that you first decide what that budget is. Then you can find activities that fall into that budget and less expensive or free ways to do them.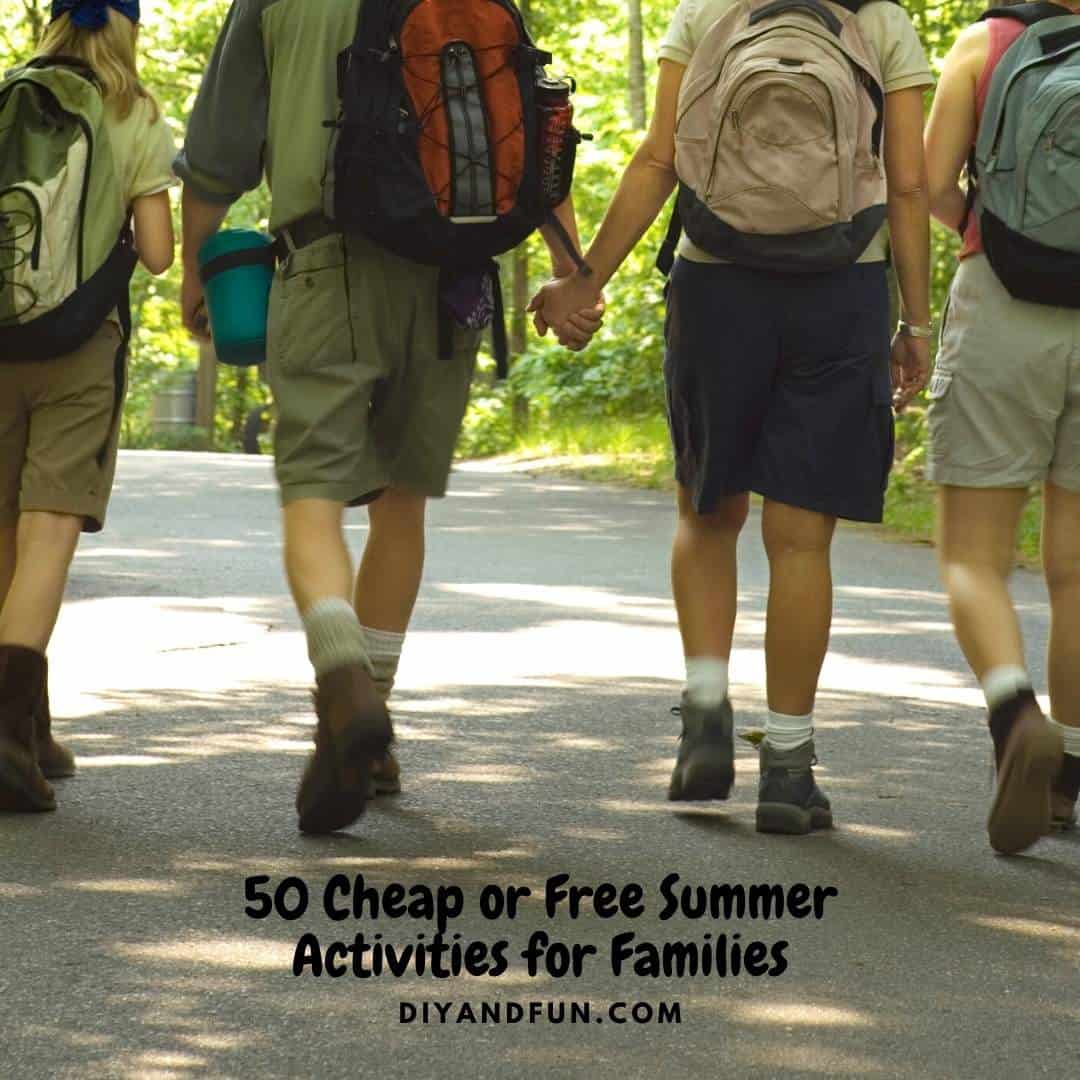 Here are some tips for planning family activities.
Get the entire family involved with planning the activities. Not only will they be more accepting of the idea, they may also have some good ideas of their own.
Consider ideas that are both at home and away from hoem.
Home ideas can include inside and outside of the home.
Nearby ideas can include activities in your town.
Within a quick drive away are activities that may be within an hour or two away.
Be sure to follow us on Facebook, Pinterest, and Instagram.
Subscribe to our Weekly Newsletter.
↓(Keep Scrolling to Continue Reading)↓
You may also be interested in these ideas.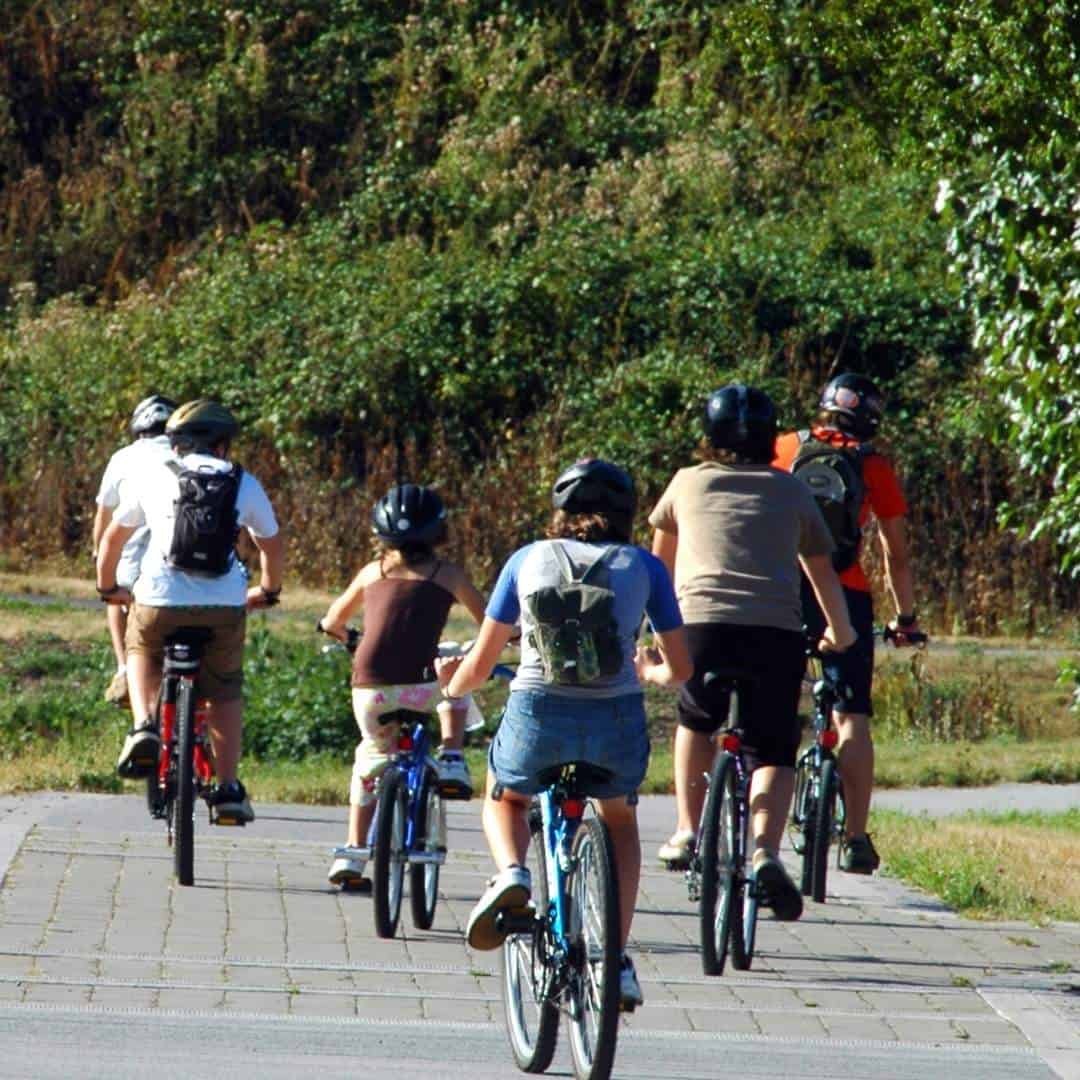 In and around home activities.
You may not think that activities from home are a fun way to spend family time during the summer. However, what you should consider is that this is a great time to get those lingering 'to-do's' done. In the long run, this may free up some time for fun things later on.
Here are some ideas for family activities in and around the home.
1. have some family time. This is your opportunity to do all of those family activities that you keep putting off. These activities may include family puzzle time, reading time, or even card or game playing.
2. Plan a family hike. How to make Family Hikes Fun.
3. Have a 'cleaning out the closet challenge'. where everyone is encouraged to gather items that can be donated or sell at a garage sale.
4. Have a family movie night. Here is How to make a Family Movie Night at Home
5. Have a 'Glamping' vacation in your backyard. Here is how to DIY Backyard Glamping.
6. Go on a nature hike. Here Fun Nature Activities For Kids
7. Have a Family Craft Day. See what you have around the house that can be reused as a craft. Or, visit your dollar or discount store for ideas.
8. Do a Family Bake-off or bake something as a family. You can have a picnic and enjoy what you have made.
9. Virtual Tours can be done at any time from about any place.
You can find Free tours here

,

from around the world here

, and

National Parks here.

10. Start a family website of blog.

11. Build a fort. Even if you use blankets or boxes, this is a great way for everyone to work together towards a goal.
12. Do a family car and bike wash.
12. Make kites that can be flown in your yard are close park.
13. Download a free map from a National Park to learn about parks.
14.Host a cookie exchange with friends or neighbors.
15. If it's a hot day you can enjoy your sprinkler, water balloons, or squirt toys.
16. Have a dog wash. Whether it is your dog or a friends dog, sometimes dogs like a good bath too!
17.Have a virtual visit to a baseball game. Make hot dogs, eat peanuts, and watch the game as if you are really there!.
18. Rearrange the furniture in a room or you patio.
19. Have a backyard carnival or 'family' fair. You can have carnival style games, a pet showing, or jelly tasting.
20.Celebrate a non-summer holiday with a summer twist. This can be something like Christmas in July, Hot Weather Halloween, or even Thanksgiving in the backyard.
Inexpensive of free same town activities for families.
Same town activities is your opportunity to enjoy the town that you live in. You may have heard about a place or passed by somewhere in your town that has sparked your curiosity at some time.
21.Get to know your home town. Visit websites for your park district, chamber of commerce, and visitors bureau to get ideas for what to do as if you are a visitor in your town.
22. Have a scavenger hunt at your local mall, park or even neighborhood.
23. Check out museums that may be at a local college, business, our government building.
24. Or, check out the local parks that you never get to visit.
25. Find a local pool or beach to cool off at.
26.Visit a local garden, petting zoo, or farm. Many Local gardens also have gardens for kids.
27. Look for free stuff such as free movies or Free Bowling.

28. Go watch a little league game, soccer game, or even a swim meet.

29. Find a local forest preserve or nature trail to hike at.
30. Discover fishing even if you just watch or throw the fish back.
31. Head on over to a local arboretum or garden. Many universities or park districts have these.
32. Check out garage sales. You may find a deal on a bike or family game to enjoy.
33. See free demonstrations at a hardware store, craft store, or even a local petting zoo.
34. Take a pictures or local landmarks and make an album or post them on social media.
35. Go for a family run at a local track.
36. Head on over to a thrift shop to look for treasures.
37. Gather rocks, seashells, or pine cones.
38. Play basketball at a school or park court.
39. Go tasting free samples at local grocery or warehouse stores .
40. Watch the sunset or sunrise from a local beach, hilltop, or park.
Expert tip--> Many zoos and museums have reciprocal agreements with others elsewhere. That is, if you purchase a family membership at your local zoo, that may entitle you to visit other zoos that reciprocate!
A drive away activities for families .
These are those cheap or free ideas that may only be a few hours away or in your same state.
Free stuff you can download!
50 Cheap or Free Summer Activities for Families, a listing of family friendly things to do in the summer that don't cost a lot of money.