How to Grow Onions Indoors in water or in soil.
This is a simple guide for growing onions for use in recipes or to transfer to your garden later on.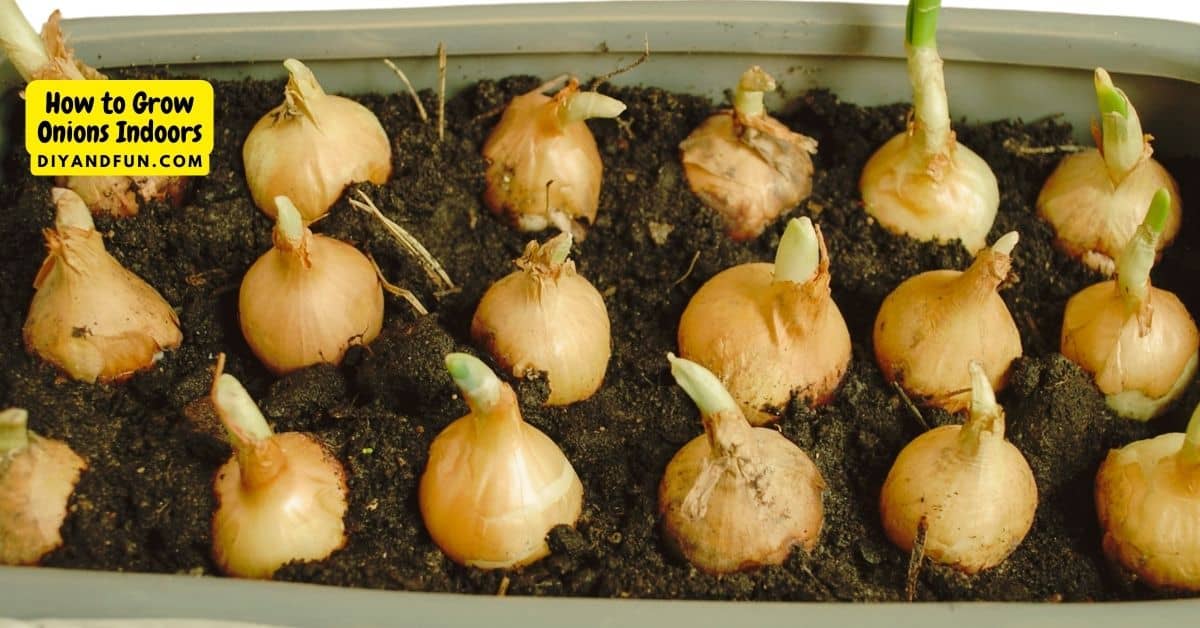 A simple guide for Growing Onions Indoors.
Growing onions at home may be easier to do than you may have thought.
If you are someone who likes using onions in recipes, this guide may be for you!
Did you see my article on How to Grow Plants from Cuttings ?
That guide includes popular plants to grow such as basil, peppers, and tomatoes. Both this article for gowning onions and that cuttings article are helpful to most anyone wanting to get a head start on your summer garden.
Onions need a bit of light to grow. You can find indoor lights for plants here.
Frequently asked questions about growning onions indoors.
Can you grow onions indoors year round?
This quick answer is yes, you can grow onions indoors year round.
However, you may need to adjust the method that you used to conform to your indoor conditions.

Here is what to keep in mind when growing onions indoors.

🟣The availability of light in your home.
🟡Your method of choice for growing them (water versus soil).
🔵And, source for onion (seeds,bulbs, etc).

How long does it take to grow onions indoors?
Well, that depends on how you are growing the onions and your onion source (seeds etc). Also, you should consider the usual indoor growing concerns such as light and humidity.

The easiest way to to enjoy onions quickly indoors is probably using the green onions in water method as described below. This method can be enjoyed immediately (I do this all the time!).
Tips for growing onions indoors.
If you are planning to replant your onions in your outdoor garden, it is a good idea for first research what type of onions grow best in your area. You will need to select onion varieties that can grow in your climate and soil for example.
More tips for you
Onions generally do not need a lot of space or the same amount of direct sunlight as other plants. I grow my green onions on the counter in my kitchen where there is no direct light.
You may find that onions are relatively simple to grow thanks to their ability to grow from seeds or from bulbs. The bulbs can come from onions that you have already served their purpose.
I mentioned that I grow green onions in my kitchen. These green onions sit in water and I am able to simply cut off pieces as needed.
Four easy ways to grow onions indoors.
Growing onions indoors is both convenient and the perfect way to have fresh onions when you need them.
It is also a simple way to get onions plants ready for your outdoor growing season.
Here are easy ways to get your onions growing indoors.
Plant Onion Bulbs in Soil.
Repurpose used bulbs in Water.
Place green onions in water.
Grow onions from seeds.
👇You may also be interested in these ideas!👇
Be sure to follow us on Facebook, Pinterest, and Instagram.
Subscribe to our Weekly Newsletter.
↓(Keep Scrolling to Continue Reading)↓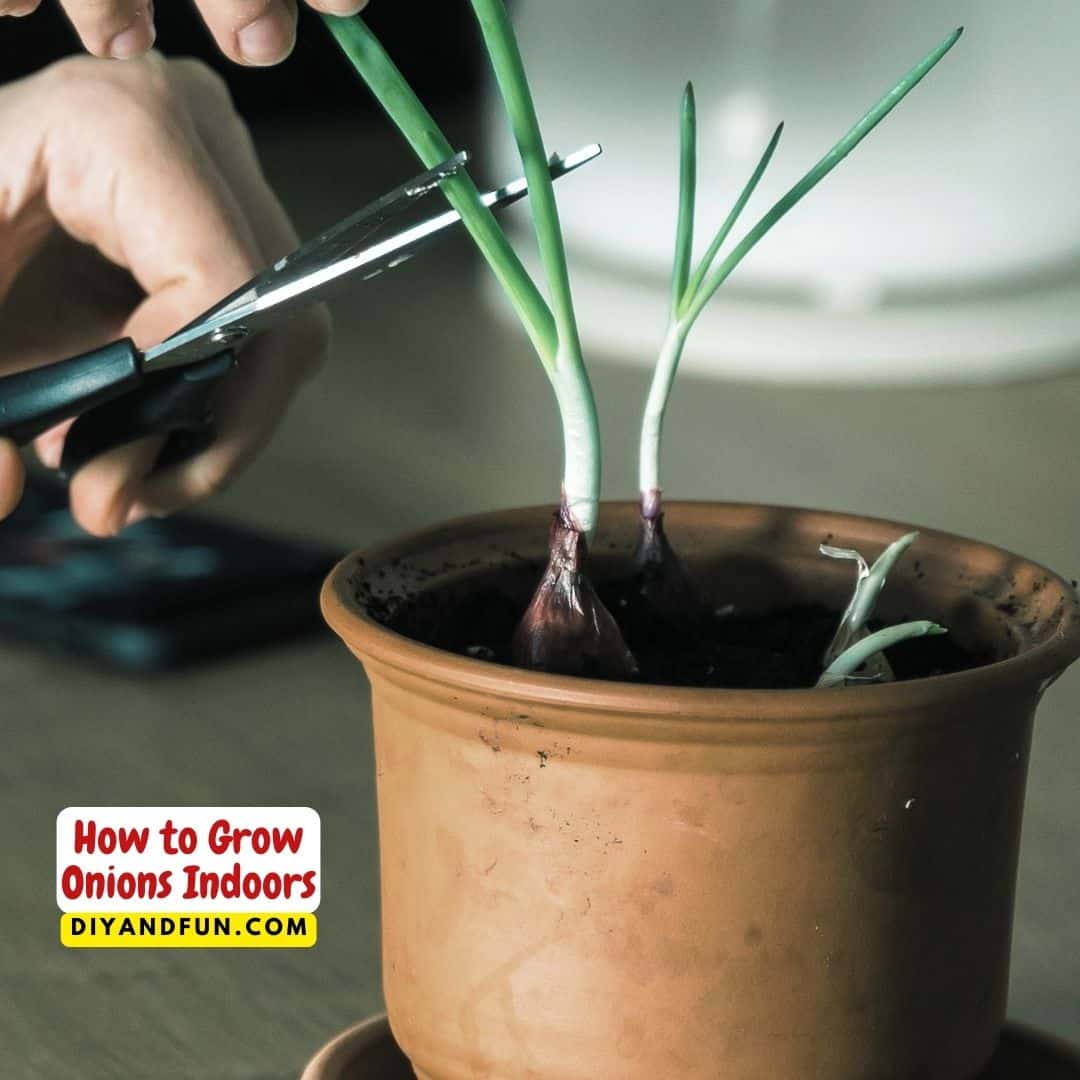 How to Plant Onion Bulbs indoors in Soil.
This is a great method for plants that will eventually go outside. You can purchase onion bulbs or use bulbs from onions that you have already used (repurpose).
Here is how to plant the bulbs.
Select a container that is deep enough for the onions to grow in (six to eight inches) and that has holes for excess water to drain through.
Use a basic potting mix to fill the container.
Plant the bulb with the roots facing down and the tops above the surface of the soil. That should be about two inches deep.
Place the onions in a location that gets about seven hours of sun a day.
Water the soil as needed to keep it moist.
How to water onion plants indoors.
Change Water Every Day and Scout for Pest Problems. . Water your onion plants every day and allow the soil to dry out slightly between waterings. Also, inspect your onions regularly for any signs of pests or insects that could be affecting their growth. Finally, remember to fertilize your onion plants every few weeks with an all-purpose organic fertilizer for additional nutrients.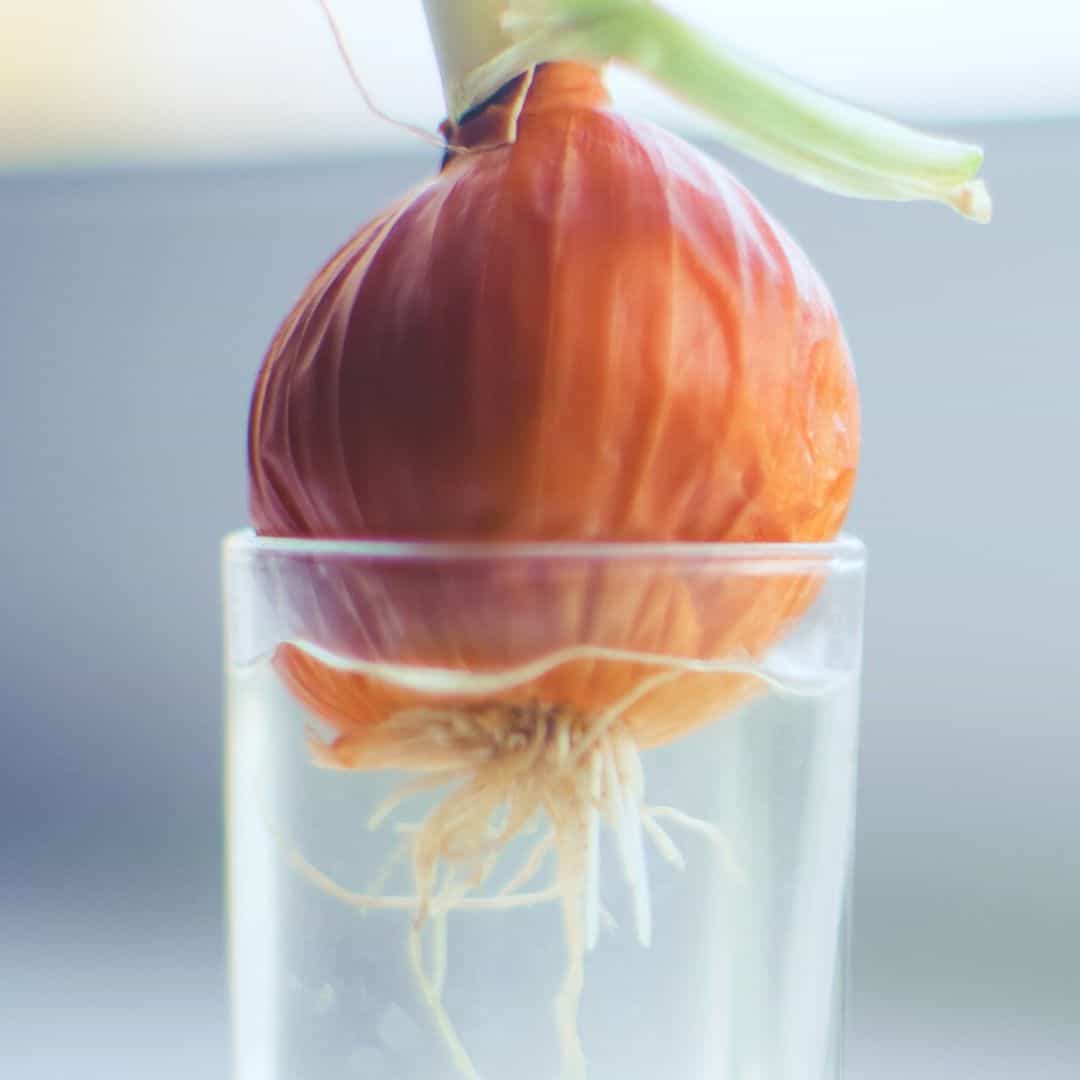 How to plant onion bulbs in water.
This works when you use onions that have sprouts already visible (which tends to happen when you hold on to onions for a while). Those sprouts are a source of fresh onion that go great on top of a salad.
When planting onion bulbs in water, first place the bulbs into a bowl of lukewarm water. Then ensure that the top of each of the bulbs remains exposed about two inches above the surface of the water.
Onion bulbs that are placed in water can be planted or used as needed for sprouts.
Fill a clean jar (I use those slim olive jars or used pasta sauce jars) with water about ⅞th full.
With the roots of the onion facing down, place strong toothpicks into the sides of the onion bulb as these will be used to hold the onion in place. This means the they should be halfway down from the top of the onion and placed at a 90 degree angle.
Place the onion into the jar so that just the roots are in the water and the toothpicks are holding the bulb above the water. You may need to adjust your toothpicks or add a few extra to hold the bulb in place.
Set the jar by your window and check the bulb daily to see if you need to replenish or change out of the water.
In about a week and a half you will see fresh sprouts grow from the top of the onion, which you can cut off and use.
When the sprouts begin to flower, you should replant the bulb in dirt.
How to grow green onions in water.
This is my favorite method of growing onions indoors are I can do it in my kitchen without a lot of light and I can also have fresh cuttings any time I need them.
How to grow green onions in water. Method one.
Purchase fresh green onions that have a good set of root growth.
Fill a jar or glass about halfway with water.
Rinse off your onions and then trim off the tops.
Place the onions into the water and enjoy.
Change out the water every few days. You should also rinse off the onions and trim as needed as they can get a bit scummy in the water.
This method lasts me about a month.
How to grow green onions in water. Method two- for replanting.
Purchase fresh green onions that have a good set of root growth. Then use a rubber band or waterproof twistie to attach the onions together about two inches above the bulbs and roots. The cut the onions just above this point as you only need the bulbs and roots.
Place the cut and attached roots into a jar or glass and cover with water.
Once the stalks grow to about ten inches tall, you can replant the bulbs in soil.
How to Grow onions indoors from seeds
Yes, you can also grown onions from seeds. You will need a potting mix soil, seeds, and container.
How to grow onions from seeds.
First place potting soil into the container(s).
Place a few seeds into the container.
Cover the seeds with about a half inch of soil.
Place the container by a window where it can get seven to eight hours of sunlight.
Water the plants as needed.
Your onions are ready to replant when the sprouts are about three and a half to four inches tall.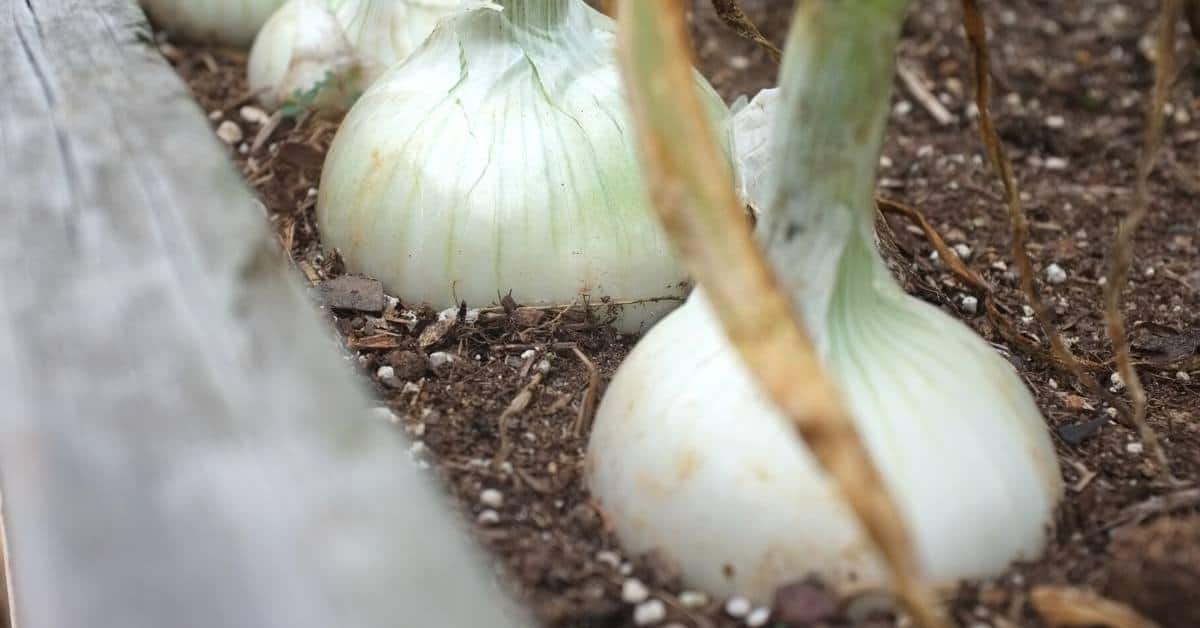 Final tips and tricks for growing onions.
The next time you slice an onion, save the root or bottom that you normally discard. Then plant that root in dirt and you will see fresh sprouts pop up before you know it!
More helpful ideas for you.
For onions that are planted in soil it is a good idea to first loosen the soil using a garden tool such as a trowel. This will help the onion roots grow more deeply and broadly.
With large space planting, space your onion sets about an inch apart from one another.
Onion bulbs do best when planted in a sunny area with moist soil. However, the soil should not be allowed to get not overly wet as this can cause them to rot.
For onions to successfully grown indoors, it is a good idea to provide at least six to eight hours of direct sunlight each day. If your onion plant is situated too far away from a light source, you can use grow lights as an effective alternative.
Additionally, indoor temperatures should be kept between 65-70°F (18-21°C) during the day and 50 - 60°F (10 - 15°C) during the night.
Lastly, keep an eye out for high humidity levels as high levels can lead to diseases in onion plants. The ideal level for relative humidity is between 40-60%.
For soil planted onions, the ideal pH level for onion plants should be 6.2 to 6.8 on the pH scale.
👇👇Related Ideas.👇👇
How to Grow Onions Indoors, a simple guide for growing your own onions from onions or from seeds. Included soil and water methods.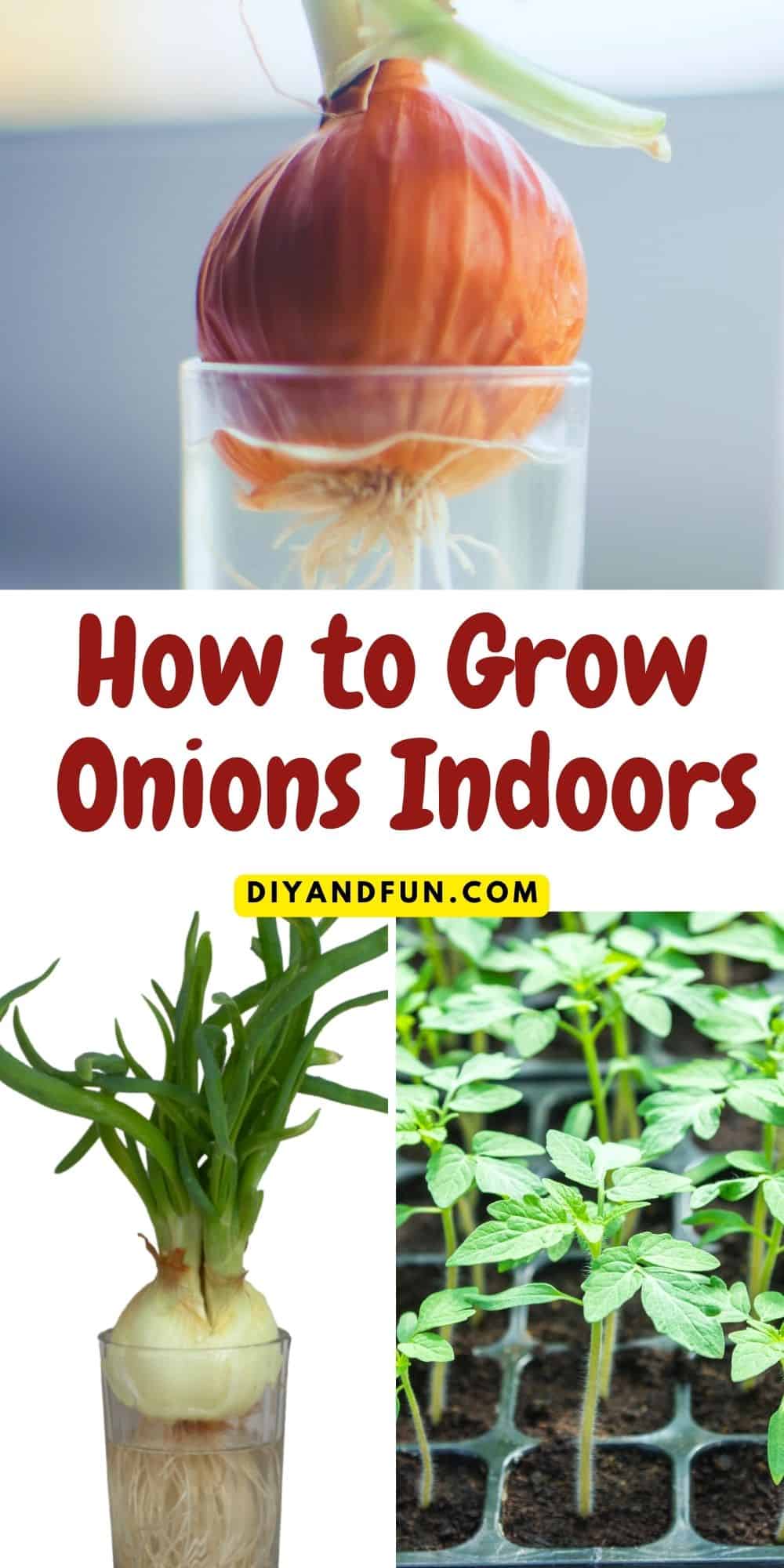 Print
How to Grow Onions Indoors,
How to Grow Onions Indoors, a simple guide for growing your own onions from onions or from seeds. Included soil and water methods.
Instructions
Plant onion seeds in soil. Place pot near a light source such as a window.

Bulbs can be planted in soil or water.

Green onions can be placed in water.
Thanks so much for visiting!
If you decide to try any of the ideas listed in this article please tag on social media @diyandfun. We like to hear your ideas and suggestions.
DIY and Fun is a website dedicated to providing you with the best DIY projects, crafts, recipes, hiking, and fun ideas that inspire. Whether you're looking for a new way to decorate your home, learn a new skill, or simply have some fun, DIY and Fun has something for everyone.
Here are some additional ways to keep coming back to DIY and Fun:
Sign up for our email newsletter. We'll send you weekly updates with new projects, inspiration, and more.
Our community forum is coming soon. Share your projects, ask questions, and get inspired by other DIYers.
We hope to see you soon!
-Mary and Mike.