40 of the Best Crescent Roll Recipes Ever!
This listing includes everything from tasty appetizers to desserts!
40 of the Best Crescent Roll Recipes Ever!
Crescent rolls are amazing just the way they are.
But, when you add them to a recipe, they are even better!
Did you see Over 50 Epic Game Day Nacho Recipes?
If you are here looking for ideas for a party or gathering then head on over to those game day nachos for more great ideas!
Frequently asked Questions about Crescent Rolls.
What is a crescent roll?
Technically, a crescent roll is a roll in a crescent shape.
A crescent roll gets its shape from dough that is rolled up to form that crescent shape.
What is the difference between crescent rolls and croissants or other rolls?
Crescent rolls are basic bread rolls that have been rolled into a shape which is what makes them different from other rolls.
Croissants on the other hand, are more of a pastry as they are baked with butter to achieve a light and flaky finish.
Why should you use crescent rolls in recipes?
This quick answer is that using store bought crescent rolls is a simple hack.
That is, you can make the already made dough to make so many other recipes in as little as 20 minutes or so. Simply unroll the dough and create your goodness! 😋😋
The Best Crescent Roll Recipes Ever!
Everyone's favorite Pigs In a Blanket are dressed up for the holidays or game day in this edible salad wreath. Crescent rolls surround little smokies with a savory dipping sauce. It's a festive appetizer that's the hit of every party!
Tasty Chicken and Dumplings recipe is made with crescent rolls to give it a more rustic appearance. The thinner dough cooks more quickly, meaning dinner time is ready before you know it.
This air fryer appetizer recipe with jalapeños and cream cheese only takes half an hour from start to finish and yes that includes the cooking time too. So whether you have unexpected guests or you're making appetizers for a party, these poppers are perfect.
Everything bagel seasoning and a little cream cheese create these flavor-packed Everything Bagel Pigs in a Blanket. Mix up a couple of 3-ingredient dipping sauces for a super fun and easy appetizer
Crescent roll dough filled with a mixture that has all the classic cheeseburger flavors and the added kick of pimento cheese
If you've ever had pigs in a blanket before, you already know how good they can taste. So, why not make them at home? You won't need a bunch of ingredients to prepare the air fryer pigs in a blanket. All you need is a pack of your favorite hot dogs and a container of refrigerated crescent rolls.
· You have to try my favorite Cherry Cheese Danish recipe! They are super easy to make, only require 4 ingredients, and can be made in the air fryer and oven!
Be sure to follow us on Facebook, Pinterest, and Instagram.
Subscribe to our Weekly Newsletter.
↓(Keep Scrolling to Continue Reading)↓
These mini pizzas are crescent roll dough topped with sauce, cheese and toppings, then baked to golden brown perfection. A bite sized version of pizza that makes for a fun and unique appetizer.
This isn't just any old taco ring, it's filled with corn chips, guacamole, sour cream, cheese and tomatoes – easy and delicious, ready to serve a crowd!
An easy and fun carnival treat made in the air fryer with crescent roll dough. Oreo cookies are enveloped in a sweet and golden crescent roll packet and topped with powdered sugar. Ready to eat in under 15 minutes!
Easy Crescent Roll Quiche Cups are an easy recipe for busy mornings. Filled with sausage, eggs and cheese and perfect for grab and go breakfasts or lazy brunches.
These super comforting Mini Pot Pies are delicious, creamy and super easy to make! Filled with a plant-based gravy and mixed veggies! Yum!
se leftover turkey and cranberry sauce in this turkey cranberry crescent braid recipe. This crescent roll dinner recipe makes a tasty appetizer too.
Pigs in a Blanket, also known as mini crescent dogs, are easy-to-make, easy-to-eat finger food and are a huge hit with kids or adults. Make these as a party appetizer, or enjoy them as a fun lunch with your family.
Crescent Roll Pizza is a dinner the whole family will love! Crescent dough makes a tasty, easy pizza crust, ready for your favorite toppings. This recipe is simple, fast, and downright delicious.
Yet another crowd pleaser, very quick n' super yummy pastry and fruit recipe, a winner every time.
Reuben Rolls are an easy baked version of the classic favorite. Crescent rolls are stuffed with swiss cheese, corned beef and sauerkraut and baked until golden brown.
Start out your day with these sweet, tasty and easy to make strawberry cream cheese crescent rolls. They are filled with a cream cheese mixture that's topped with strawberry jam.
How can you say no to pizza for breakfast? It's sort of like a breakfast casserole, but instead of baking in a dish, you're adding flaky crescent dough for a base that's baked straight on a sheet pan.
Whether you enjoy leftover ham, broccoli and cheese crescent cups as a brunch, breakfast or appetizer, the flavors of ham and cheese are delicious. This snack is so simple to make and it's a great recipe for leftover ham.
A yummy and adorable pull-apart crescent wreath has a surprise inside—a pop of holiday colors! The red, green and gold colors come from roasted peppers, spinach, artichokes and cheese.
Savory hand pies made with flaky crescent roll dough filled with a rich and meaty filling. These easy and quick pies are a perfect weeknight dinner when paired with a simple salad.
This Easy Breakfast Scramble Recipe is simple to make with only 5 ingredients and is sure to please your hungry family!
A tasty crescent roll taco ring is a family favorite for good reason! It's super easy, cheesy and perfect for all your favorite taco toppings..
Crescent Dough Pumpkin Pie Twists, bread sticks stuffed with pumpkin pie. A simple breakfast, brunch, or snack idea .
Appetizers made with Crescent Roll Dough
This easy cranberry brie crescent ring appetizer is just perfect for the fall and winter entertaining. This crescent wreath appetizer is delicious and well worth making.
Mini Spinach and Ricotta Calzone Bites are so delicious! Crescent dough is stuffed with THREE cheeses and tucked into a little ball before being baked to gooey, melty perfection. Serve with a warm marinara sauce for dipping and everyone will love you.
These Crescent Cheese Puffs are great to make as a quick snack for kids or for an easy party appetizer. Ooey, gooey and cheesy!
Cranberry Brie Bites are an easy appetizer recipe that looks (and tastes) fancy. Tart cranberry sauce brightens and gooey baked brie are tucked into a buttery pastry in tidy bite-sized portions.
Pigs in a blanket is a classic party snack made with cocktail wieners wrapped in crescent dough, which are baked to golden brown perfection. An easy appetizer option that can be doubled or tripled to serve a crowd.
If you want a quick, but elegant appetizer, try these Spinach Crescent Roll Appetizer Bites! They're cheesy and delicious.
Desserts Made with Crescent Rolls.
Raspberry Goat Cheese Bites are sweet and savory appetizers or desserts made with crescent rolls, pesto goat cheese, raspberry jam, and fresh raspberries. They're an impressive and easy finger food!
This recipe for Peanut Butter Chocolate Chip Crescents is one that toddlers, preschoolers & older kids can help make. Ready in just 15 minutes!

Made with Butter and a can of Mountain Dew makes for a yummy, sweet sauce in this apple dumpling recipe..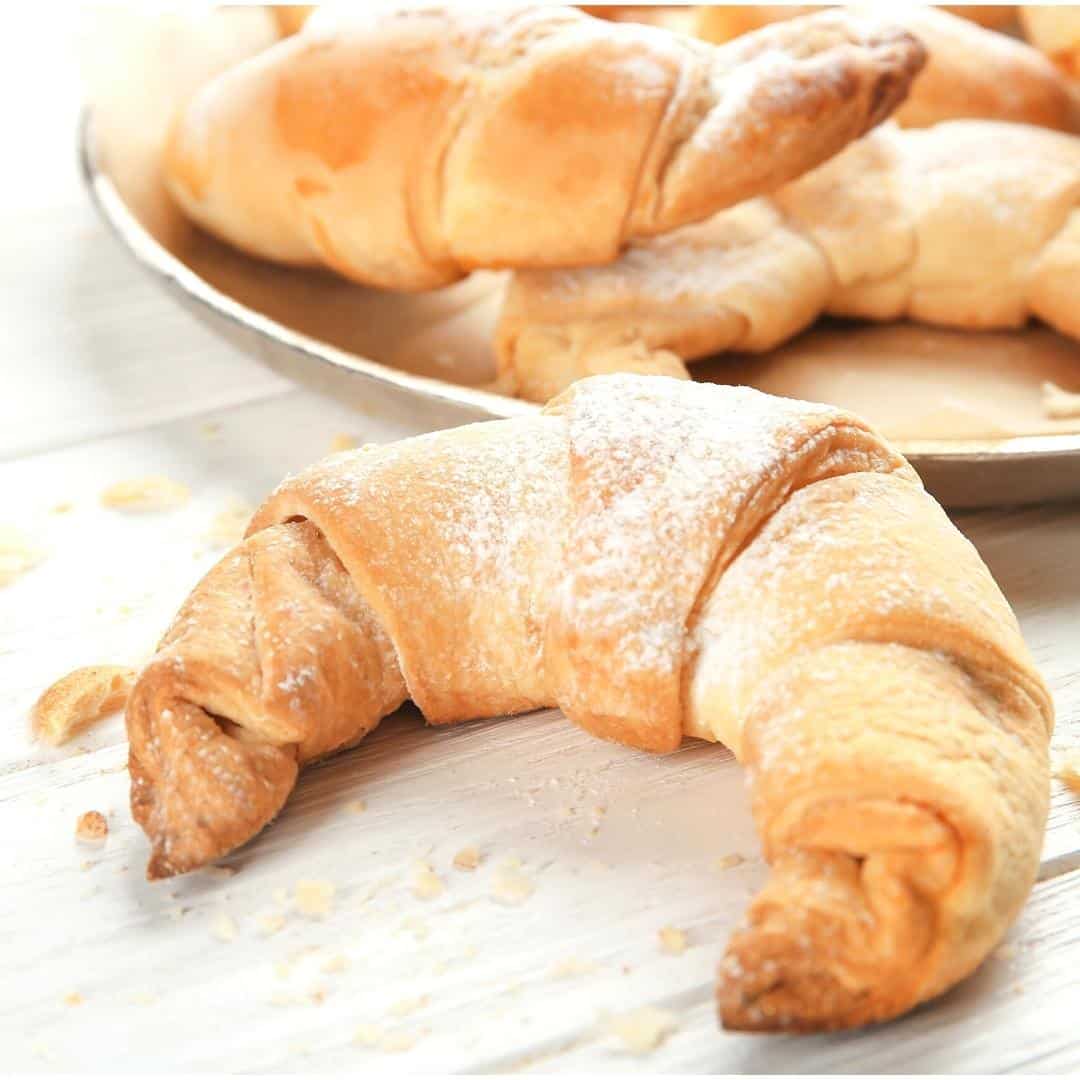 Don't miss these yummy Crescent Roll Recipe Ideas.
👇You may also be interested in these ideas!👇
40 of the Best Crescent Roll Recipes Ever! Easy and quick recipes, that everyone likes, for breakfast, appetizers, dinners and desserts,
Print
40 of the Best Crescent Roll Recipes Ever!
40 of the Best Crescent Roll Recipes Ever! Easy and quick recipes, that everyone likes, for breakfast, appetizers, dinners and desserts
Instructions
Click on the link(s) that lead to the recipes. This is where you can find the details that you may be interested in learning about.

You can share this listing on your social media to reference later.

Save recipes in Pinterest folder to find later on.