Use the ideas from this Ultimate Fall Bucket List for Families to get the most from your fall fun.
I like that it does not cost a lot of money to enjoy a season full of changing colors and nice weather!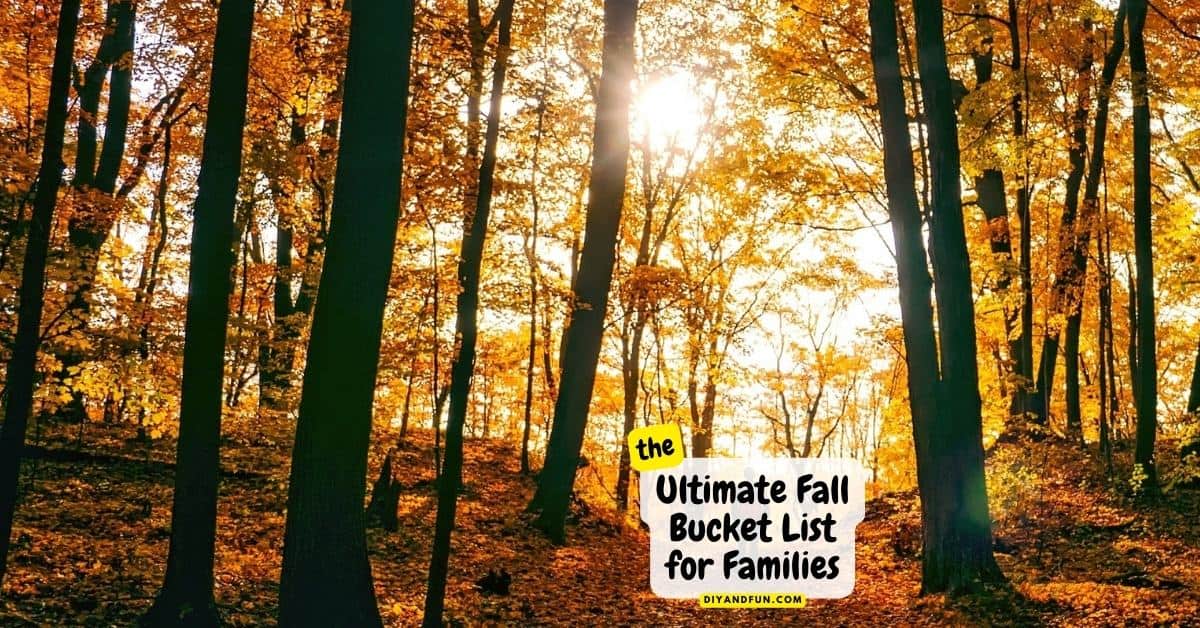 Ultimate Fall Bucket List for Families
This is a list filled with all kinds of fun activities anyone.
While you may not be into every idea in this listing, you may find something that you really like a lot!
Did you see my ideas for 10 Cheap and Easy Fall Home Updates?
That listing includes simple ideas for updating your home for the fall season. Also, the ideas can be done easily and for not a lot of money.
Fall activities are a fun way for a family to have fun together.
Here are fall-inspired activity books that are great especially during down time (traveling, quiet time, etc.)
What is a bucket list?
'Bucket List' is certainly a commonly used term. However, as a term, it has little to do with an actual bucket.

A bucket list is a list of things people want to get done before a certain time, event or date. This bucket list includes things you may want to do before the summer and warm weather ends.

What is a fall bucket list?
A fall bucket list is a specific list of things to get done during the fall season.
For many of us, the items on that list may have something to do with the weather, changes in nature, or fall events.

On the other hand, a family fall bucket list is really geared towards family activities. When children are involved, the activities can be geared towards them.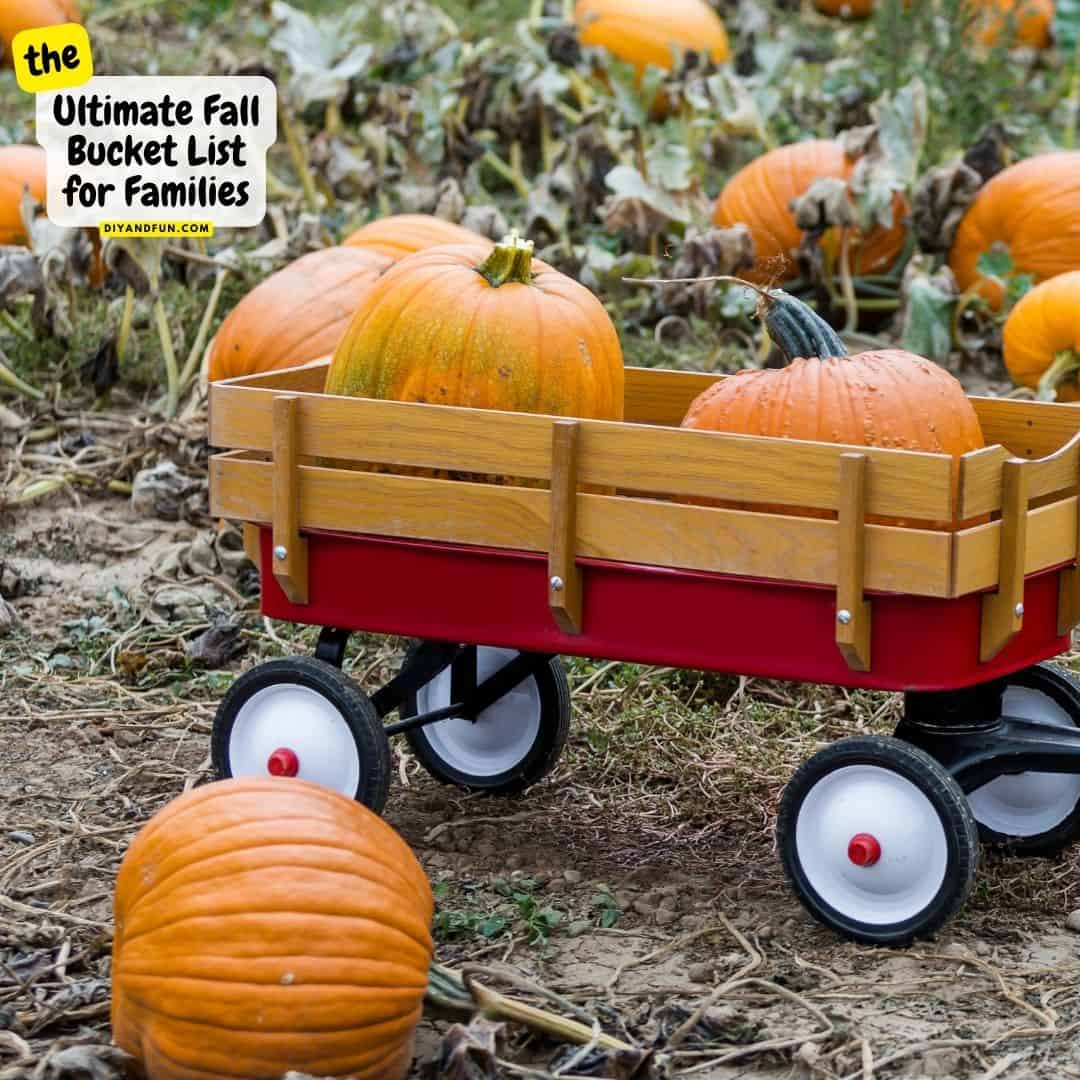 Tips for building your fall bucket list.
This listing is packed with free downloads! Be sure to download plenty of them to enjoy!
More tips for you.
Have a family meeting and ask everyone to suggest three activities that they would enjoy doing together.
It may be easier for your family to start with a small list of three to five activities from the suggested activities that everyone can agree on doing.
As a family, select the dates that can work for each of the activities.
Then assign everyone a task, whether small or large, for the activities to get them involved.
Fall Activities For Families that can be done Indoors.
Because sometimes the weather is not going to be perfect for outdoor activities, here are some indoor activity ideas.
Family friendly indoor activities for fall.
Start a family puzzle where everyone can lend a hand in completing.
Have a Family Movie Party using one of these family fall movie ideas. Here is how to make a family movie night at home.
Make s'mores indoors.
Enjoy an Easy Fall Snack Mix.
Do a simple Halloween Pirate Craft DIY.
Do a fall themed craft. Ideas for inexpensive fall projects include this easy Pumpkin Tray Project, Fall Garland Project , and DIY Fall Book Stack Project are inexpensive and easy to do.
Have an indoor DIY Beach Party at Home.
Update your closed for fall.
Clean out your closets, garage, or basement and donate items that you no longer want.
Bake something fall-ish. Recipe ideas include How to make Mummy Oreo Cookies, Easy Caramel Apple Pops, and Easy Apple Cider Donuts.
Decorate you home such as the mantel, front door, or windows for fall. Here are some ideas for inexpensive fall decor.
Be sure to follow us on Facebook, Pinterest, and Instagram.
Subscribe to our Weekly Newsletter.
↓(Keep Scrolling to Continue Reading)↓
You may also be interested in these ideas .
Outdoor fall activities for families on your Fall Bucket List.
While the weather is perfect for spending time outside and the colors are changing. These activities are inexpensive and fall-inspired.
Outdoor ideas for fall.
Collect Fall Leaves. Just like with pinecones, fall leaves can be used as part of a display, art projects, or even as part of a quiz identifying what kind of leaves they are.
Have a fall picnic. Spring and summer picnics are obvious for their potato salads and cold chicken. Serve pumpkin bread, apples, and apple cider for your fall picnic.
Have a family S'Mores party under the stars. Bundle up under the stars around an outdoor fire or grill and watch the skies!
Check out the farmers markets. This is a great time to find inexpensive local honey, corn, and baked goods at that market.
Go fishing. You can also just pretend to fish or simply watch others.
Take family photos for a holiday card. All you need is a colorful background to get the perfect card to send out to family and friends.
Go pinecone hunting. There are so many uses for pinecones. You can make a fall display with them, make ornaments with them, or turn them into bird food.
Visit those places that are too crowded to visit in the summer. When the beaches are closed for swimming, they can be a great place to visit without those crowds.
Grab some binoculars and look for birds and stars. You can also look at the leaves as well.
Visit a local apple orchard. They usually have free things to do such as mazes or animals to meet.
Go on a family drive to see the changing leaves. Find a covered bridge drive, forest preserve, or beautiful neighborhood to drive through.
Plan a fall scavenger hunt. using this scavenger hunt list fall Scavenger Hunt Worksheet .
Go on a family hike with a list of fall or outdoor things to look for (acorns, pine cones, red leaves, squirrels, etc.).
Rake leaves in your yard and then you can also take turns having fun with them.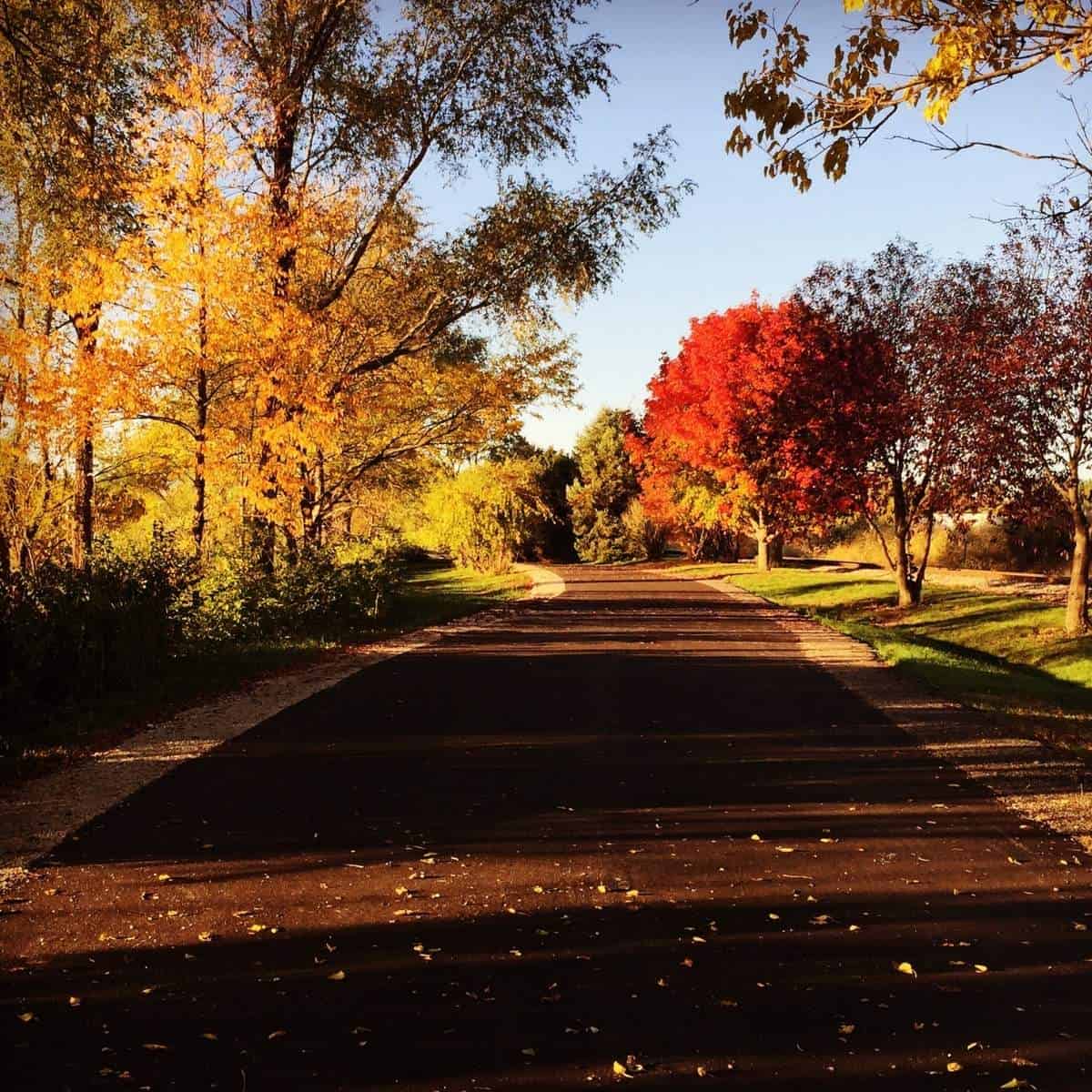 Fun Fall Family Activities that do not need a lot of planning.
Sometimes you may need a 'spur of the moment' idea for a family activity.
Go apple picking. Afterwards you can enjoy some tasty apples!
Walk around your neighborhood looking at fall decorations.
Find a local pumpkin patch. Then you can pick out a pumpkin to take home.
Take a family bike ride to look at leaves. However, you can also take pictures of the leaves to share afterwards too!
Have a family football game. Then have some cocoa afterwards.
Sip on some tasty apple cider. Also, enjoy some cider donuts with your cider.
Have a family or neighborhood fall festival.
Bake something fall inspired such as pumpkin bread or an apple pie that you can give to a neighbor or grandparent.
Go hiking at a local forest preserve or lake. You can also go fall camping.
Fly a kite. Also, you can make a Halloween kite to fly.
Do fall chalk coloring on your sidewalk.
Have a fall tea or lemonade party on your porch or in your yard. You can also invite friends to join you.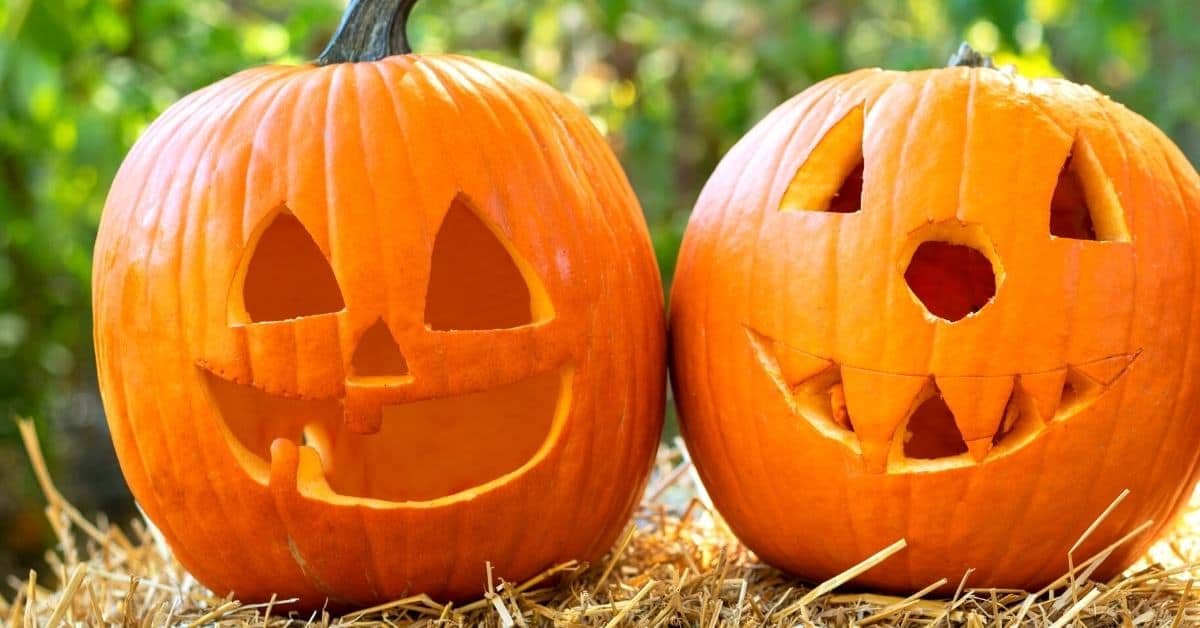 Countdown to Halloween as part of your Fall Bucket List.
Download my Copy of 31 Days of Halloween Bucket List before you start. Also, you can download as many as you need!
Tell ghost stories before having a snack.
Color Halloween Pages. Download a Halloween Coloring Page a free coloring page here.
Play Halloween Bingo. Or another similar game.
Toast Pumpkin Seeds. Start by blending together 1 ½ cups of pumpkin seeds that have been rinsed and dried with one to two tablespoons of oil and one to two teaspoons of seasonings. Then you can bake the seeds on a rimmed sheet pan at 300 for 45-50 minutes of until brown, stirring as needed.
Download a free Halloween Jigsaw Puzzle Worksheet. Then you can also share it with others.
Watch a Festive Halloween Movie.
Read some Halloween Books. Also, share the books with others.
Go an a Halloween Scavenger Hunt. First you can download the Halloween Scavenger Hunt Checklist.
Carve a pumpkin. Afterward, you can display the pumpkin on your porch.
Make Halloween Popcorn and then add some Halloween sprinkles on top.
Or you can make Pumpkin Playdough. Here is How to Make Edible Play Dough
Lastly, you can bake some Halloween Cookies or Easy Halloween Cookie Bars.
Ultimate Fall Bucket List for Families, a listing of over 50 fun and affordable family friendly ideas. Includes free downloads.