27 Fun Things to Do for Valentines Day especially for families.
Valentine's day can be a fun way to make the winter months more enjoyable if anything.
Family Fun Things to Do for Valentines Day
Valentine's day is known for hearts, candy and flowers.
There are so many other ways to enjoy the occasion as a family as well.
Did you see my listing for 25 Fun Family Winter Activities? Many of those ideas may work for your Valentines Day as well!
Make your home Valentines Day friendly. You can find inexpensive Valentines decor and more here.
Frequently asked questions about Valentines Day.
Is Valentine's Day only for Lovers?
Some folks like to equate Valentine's day with romance.
However, Valentine's day has different meanings to different people.

Certainly, for folks who are in love, Valentine's day may be the perfect reason to purchase flowers and candy or take someone out to dinner. But, on the other hand, Valentine's day is a day for making fun craft projects to decorate with or give someone a cute card.
How can I make Valentine's Day fun?
You can make Valentine's day fun by doing things that are fun to everyone that is involved. That is, share an activity or experience that everyone can appreciate as being fun.

Fun activities may include:
💖 Going for walk together.
💘 Watching a movie or going to a concert.
💝 Sharing a fun experience such as making a meal or doing a project.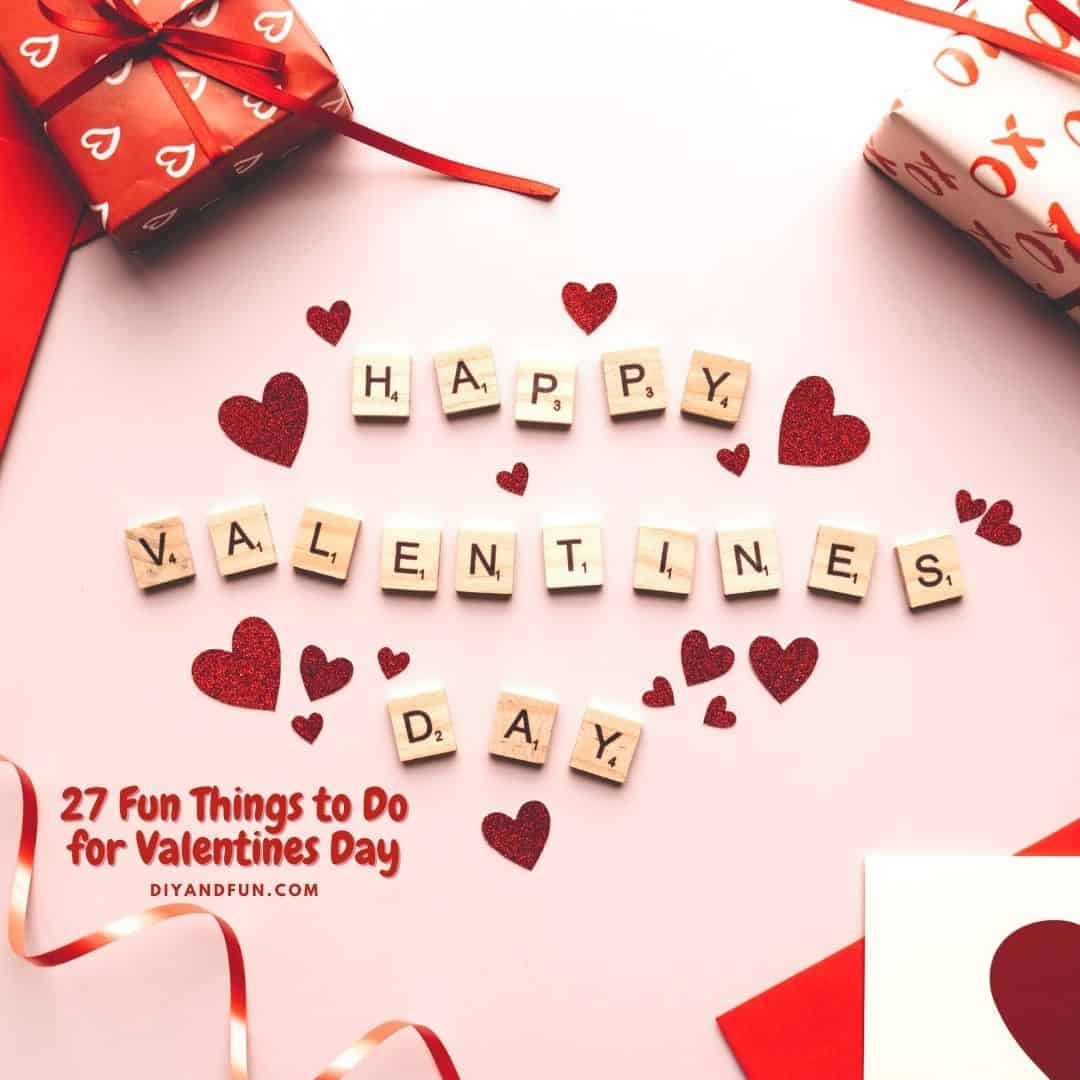 Tips for enjoying a fun family valentines day celebration.
Start by having a family meeting. Ask everyone for input on ideas that they would enjoy doing together.
More tips for you
Start with a small list of three to five Valentines Day activities from the suggested activities that everyone can agree on doing.
Decide if you want to simply have a small afternoon or evening celebration or if you want to do more than one different celebrations.
Consider assigning everyone a task, whether small or large, for the activities to get them involved.
Valentines Activities can be outdoors activities, indoor activities, or even just about projects.
Indoor activities for families can be be anything from a movie night to eating a treat.
Outdoor activings can include a walk or bike ride.
Indoor activities for Valentine's Day.
Here are some family fun activity ideas that can be done indoors.
They range from simple activities to more involved activities.
Have a Valentine's day scavenger hunt.
Divide up in teams and go around the neighborhood or indoor mall to look for Valentines day decorations or displays.
Do a family Valentines Day Puzzle.
Enjoy a Family Movie Party. I have a list of 20 family friendly winter movie ideas. Here is how to make a family movie night at home.
Do a family coloring night. You can find Valentines coloring books here.
Read Valentine's day books or make your own books.
Have a family game party.
You can play checkers, charades, or even Monopoly.
You can find a selection of family friendly games here.
Make a family pajama party.
Decorate your home with homemade or store bought Valentine's day decorations.
👇You may also be interested in these ideas!👇
Be sure to follow us on Facebook, Pinterest, and Instagram.
Subscribe to our Weekly Newsletter.
↓(Keep Scrolling to Continue Reading)↓
Outdoor activities for Valentine's Day.
Here are some family fun activity ideas that can be done indoors.
They range from simple activities to more involved activities.
Building a snowman. This takes as little as 20 minutes, snowman Valentines sunglasses, and a carrot for a nose.
Make Snow Angels- This is as simple as lying in the snow and flapping your arms and legs. Then you can decorate them with hearts and more.
Go pine cone hunting. There are so many uses for pinecones. You can make a Valentines day display with them or turn them into bird food.
Plan a winter scavenger hunt. Go on a family hike with a list of outdoor things to look for (birds, pine cones, cool looking sticks, squirrels, etc.)
Visit those places that are too crowded to visit in the other months. While the beaches may be closed for swimming, they can be a great place to visit without those crowds or draw hearts in the sand.
Roast marshmallows in your backyard if you have an area to do so in. Then you can watch the winter stars in the sky when you are done.
Go for a neighborhood walk and then make some warm cocoa with 'snowman marshmallows'.
Use a few drops of food dye to make red snow.
Share your love for reading by sharing books with an outdoor library or make your own.
Projects, Crafts and Recipes for Valentines Day.
Here are some family fun activity ideas that can be done indoors.
They range from simple activities to more involved activities.
👇👇Related Ideas.👇👇
27 Fun Things to Do for Valentines Day, a listing of family oriented activities, recipes, and diy craft ideas.
Thanks so much for visiting!
If you decide to try any of the ideas listed in this article please tag on social media @diyandfun. We like to hear your ideas and suggestions.
DIY and Fun is a website dedicated to providing you with the best DIY projects, crafts, recipes, hiking, and fun ideas that inspire. Whether you're looking for a new way to decorate your home, learn a new skill, or simply have some fun, DIY and Fun has something for everyone.
Here are some additional ways to keep coming back to DIY and Fun:
Sign up for our email newsletter. We'll send you weekly updates with new projects, inspiration, and more.
Our community forum is coming soon. Share your projects, ask questions, and get inspired by other DIYers.
We hope to see you soon!
-Mary and Mike.